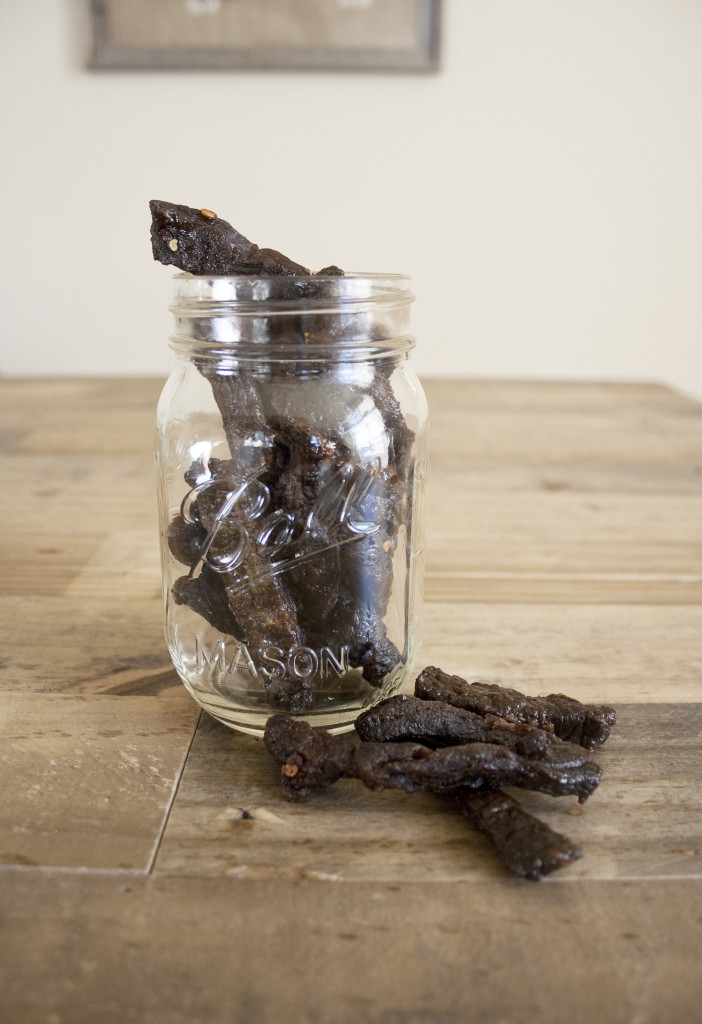 I could snack all day long and be happy.
No real meal, just snacks.
Beef jerky is one of my favorite snacks because the protein keeps me going.
I'm always surprised by the ingredients in store-bought beef jerky's though. Added sugars, preservatives, fillers, hormones, MSG (sometimes hidden as yeast extract). I am not about to pay money to put those ingredients in my body, especially my baby's body, who loves beef jerky by the way! 🙂
I am so excited about this recipe because it is very simple and a yummy snack that you can take anywhere you go.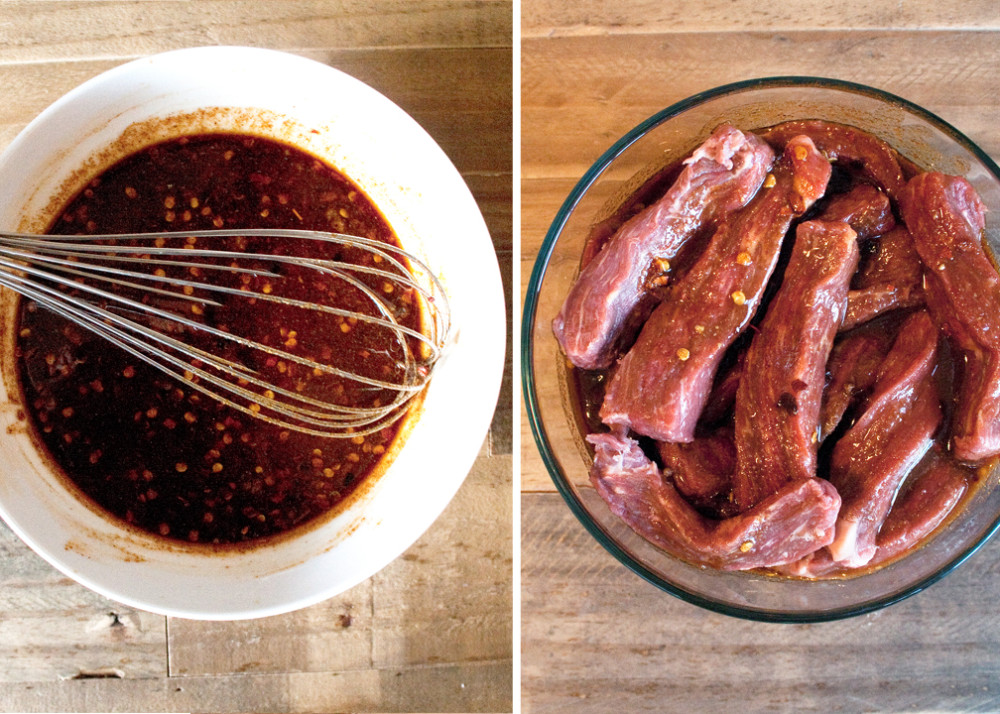 Simply mix your ingredients, slice your meat and combine. Add your meat to a dehydrator (an oven on low also works) and let it do it's job!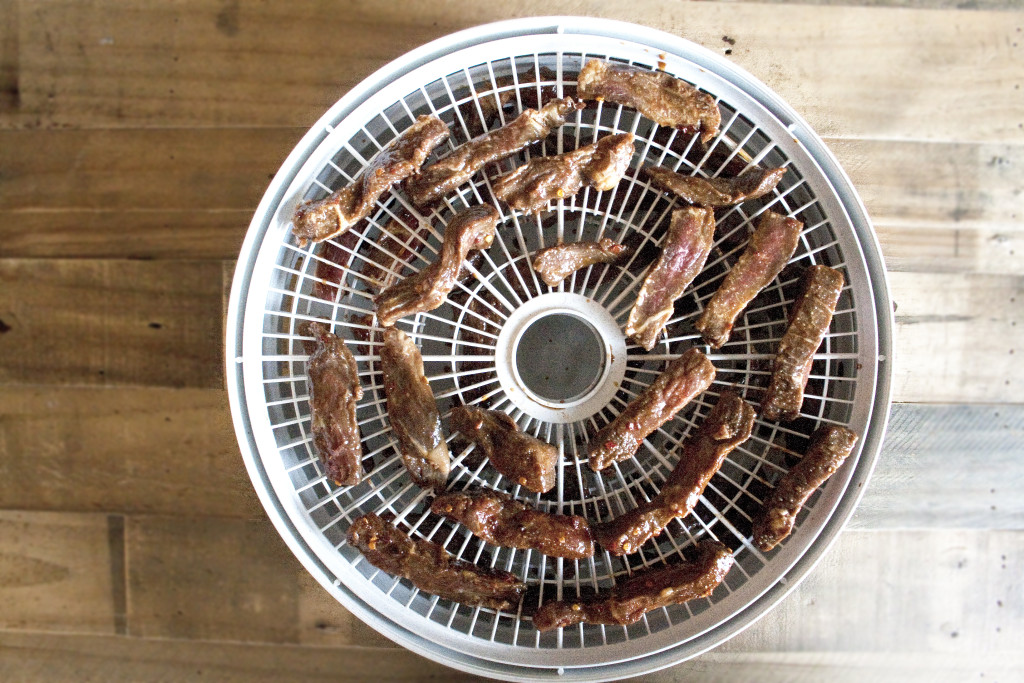 I definitely recommend choosing grass-fed beef. While it is a bit pricier than corn-fed cows, it is worth the extra cost, health-wise.
Cows were designed to eat grass, not corn; their bodies know how to properly digest the grass. Grass-fed meat has double the omega-3 fatty acids, is higher in unsaturated fats and three to five times higher in conjugated linoleic acid. This acid is found in dairy and beef that helps reduce body fat, the risk of cancer, obesity, diabetes, and improves the immune system. Like I said, a better choice all around!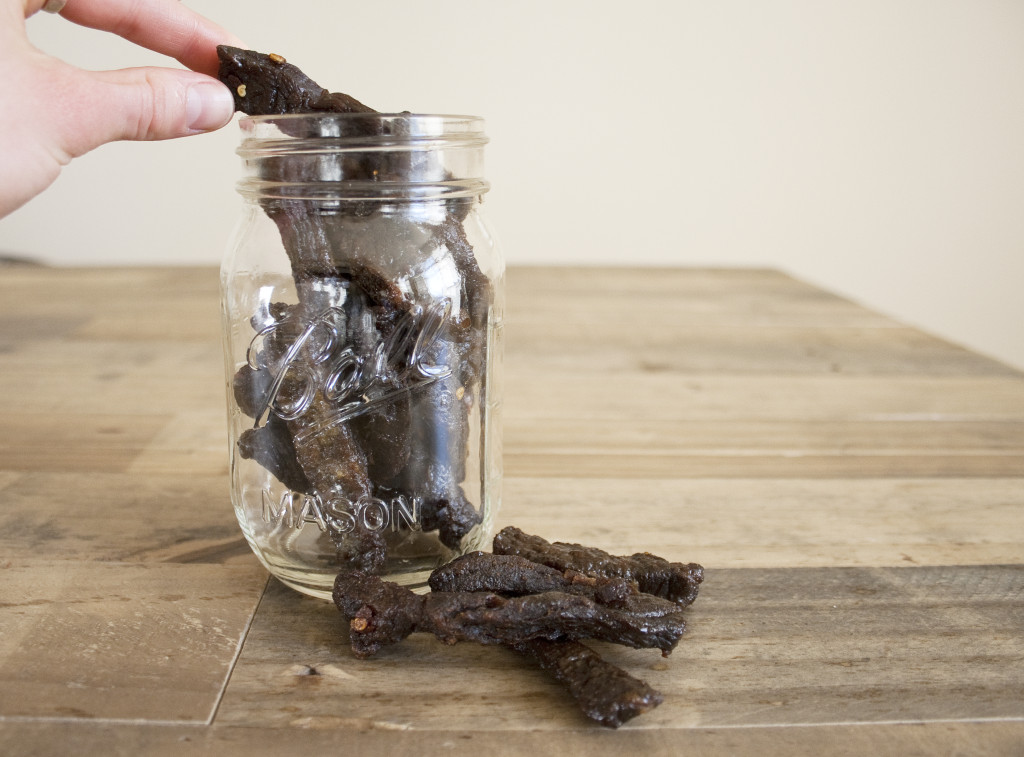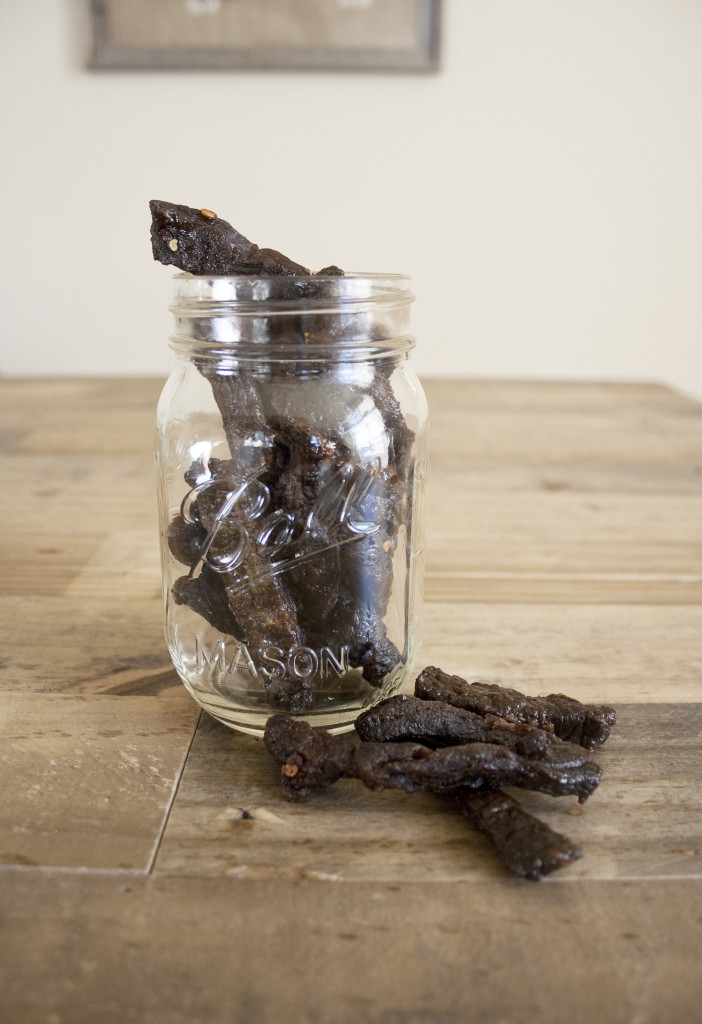 Is your mouth watering for some beef jerky yet?
Print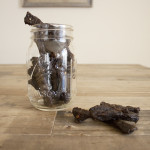 Homemade Grass Fed Beef Jerky
---
Author:

Total Time:

5 hours 30 mins
3

lbs grass fed lean top-round, flank or sirloin steak

1/2 cup

unfiltered apple juice

1/4 cup

balsamic vinegar

1 tbsp

fish sauce

2 tbsp

dijon

2 tbsp

raw honey

1 tbsp

cracked black pepper

1 tbsp

paprika

2 tbsp

garlic powder

1/2 tbsp

onion powder

1/2 tbsp

himalayan or celtic salt

1.5 tbsp

sesame oil

1 tbsp

crushed red pepper
pinch of clove (optional)
---
Instructions
Place your meat in the freezer to sit as you mix your ingredients (this makes it easier to cut)
Mix your above ingredients (minus the meat) in a medium sized bowl and whisk together
Pull meat out and slice in thin, long strips*
Place meat in a container and pour marinade over top
Let sit in fridge overnight to soak up the juices
The next day, put meat slices on dehydrator and set to 170 degrees*
Let dry for roughly 5.5 hours, checking occasionally towards the end
Your jerky is ready when you can easily rip off a piece but not so dry that it snaps if you bend
Let your jerky completely dry then transfer to a container or mason jar where it will last for 6 months. It usually lasts only a few days in our home…
Notes
Useful tips:
I used a dehydrator in this recipe
Marinates overnight
Dries for 5.5-6 hours total
*Depending on your preference, if you cut the meat against the grain it will be easier to chew, whereas cutting with the grain will result in a more chewy texture.
*Don't have a dehydrator? No worries, you can also cook in the oven on the lowest heat
Cook Time:

5 hours 30 mins