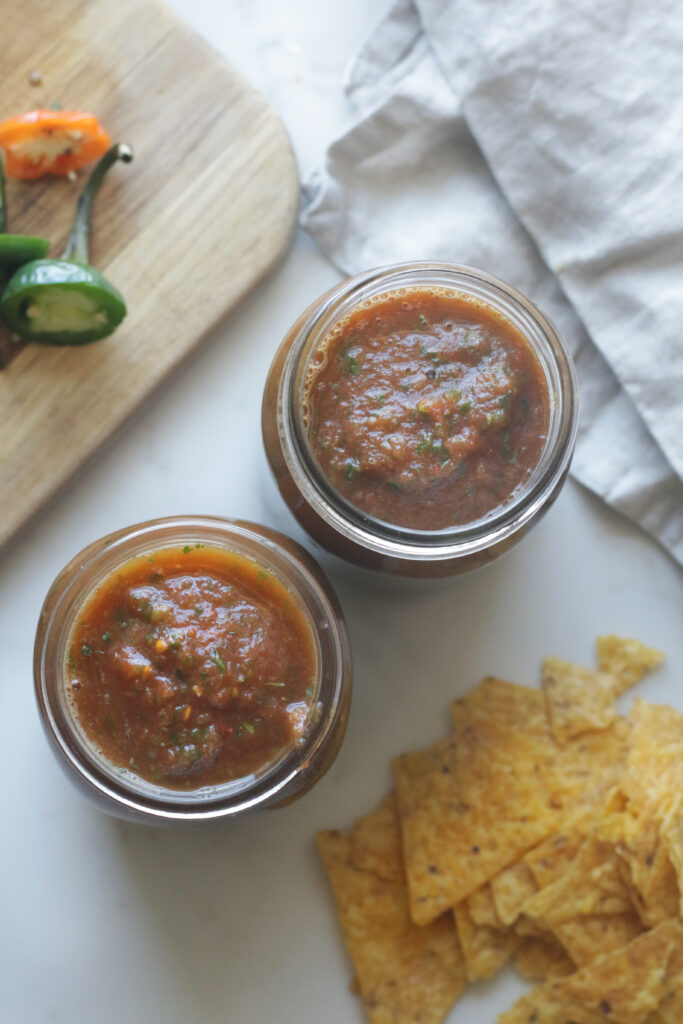 That's right, this is the best homemade hot salsa.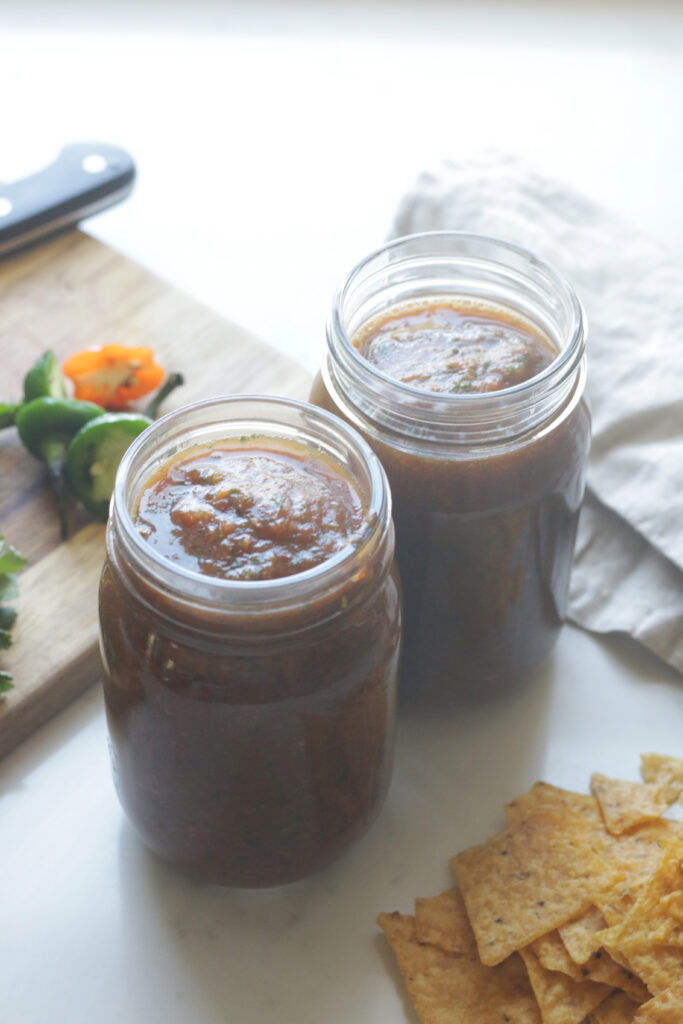 Don't believe me? Try this recipe for yourself and let me know.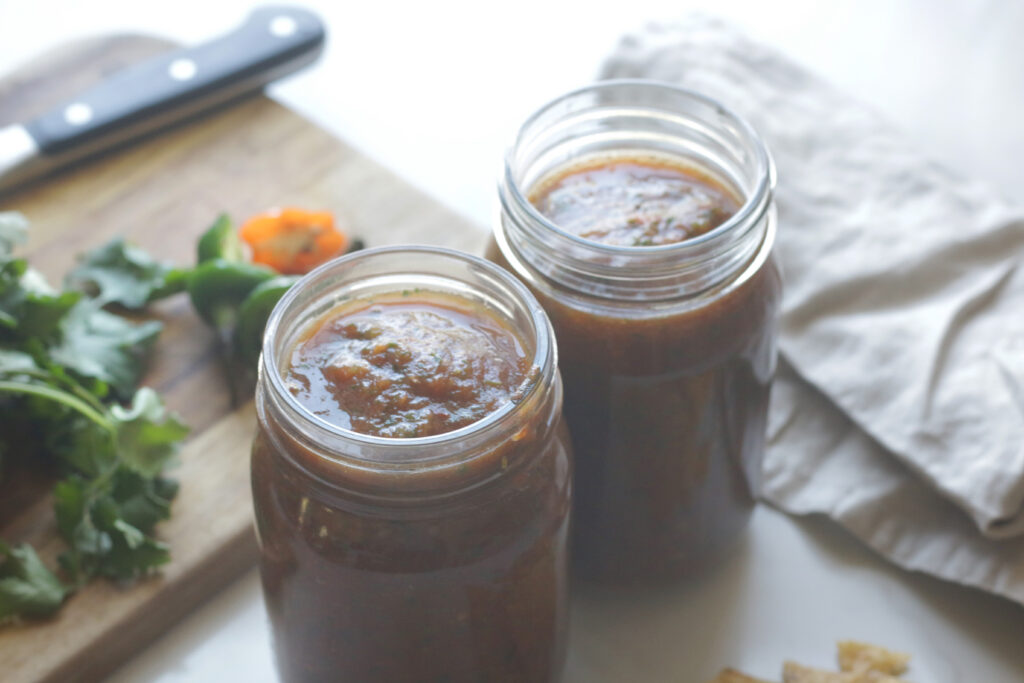 I have a running joke with my friends that I know authentic Mexican food because…
I grew up (spent one year as a toddler) on the Mexican border (Eagle Pass, Texas)
Spent most of my childhood in San Antonio, Texas (strong Hispanic influence)
Spent one summer in Cuernavaca, Mexico as an exchange student
So you can really see how I know good, authentic Mexican food right?! Haha, no, I'm as gringo as they come.

BUT I do appreciate the food! Spicy, saucy, and oh so good. This is a classic and addicting homemade hot salsa that we make regularly.
The only down side is that it doesn't last long around our home. However, with as easy as it is to make, you'll be making it as often as we do!
BELOW-Java looking all sweet but 5 minutes before he decided while mom was distracted making hot salsa it would be a great and fun idea to unravel all the toilet paper and rip it to shreds.
I was not too impressed.

To Make:
Blend all your ingredients in a blender and THAT'S IT!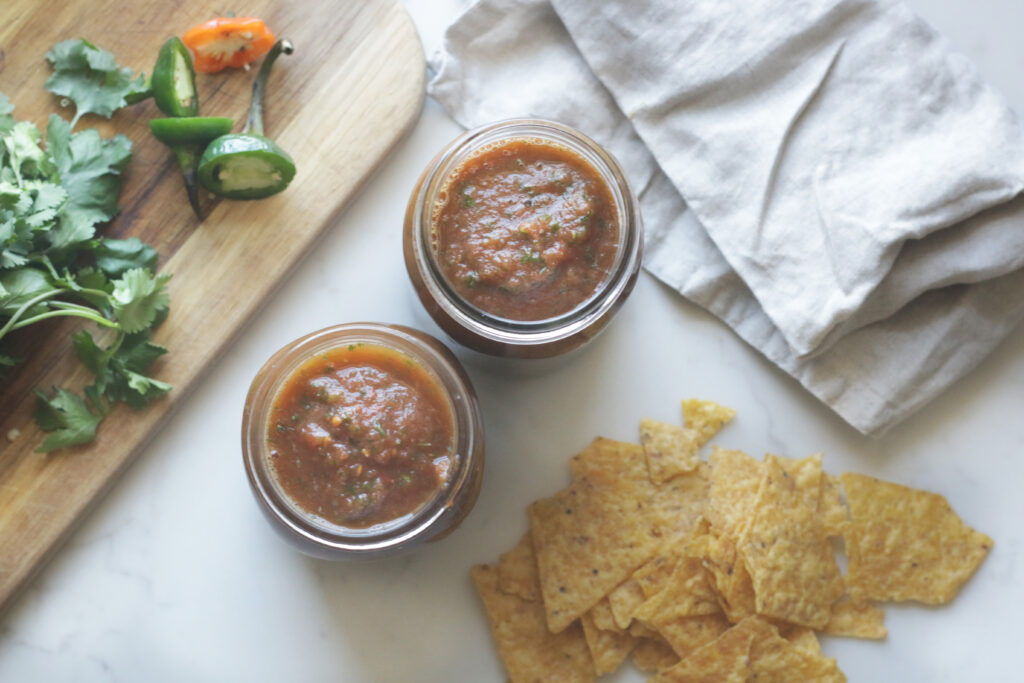 Health Benefits of Salsa:
Cilantro-an antioxidant rich herb that detoxifies the body from heavy metals and lowers anxiety by its natural sedative properties
Tomatoes are also a high-antioxidant food and rich in lycopene which strengthens the immune system and lowers cancer risks
Garlic-the number ONE food that fights cancers when consumed in raw form according to new studies
Cumin-fights inflammation, rich in antioxidants, contains anti-cancer properties and fights bacteria/parasites to name a few benefits of this powerful herb
Jalapenos-contains a compound called capsaicin which aids in weight loss, cancer fighting, improve heart health, and slow the growth of bacteria and yeasts
In summary, salsa is rich in plant based antioxidants and a strong cancer fighter!
Save
Print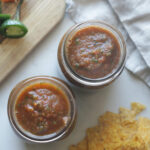 Spicy Salsa
---
Total Time:

5 minutes

Yield:

4 cups

1

x
half bunch cilantro

28 oz

can chopped tomatoes

2

cloves garlic

4

pinches of salt + more to taste
large pinch of cumin

4

jalapenos, deveined

1

habanero

4

tomatillos, skin removed
---
Instructions
Mix all your ingredients in a large, powerful blender until combined. Store in a tight container in your fridge and enjoy!
Save