Do you enjoy having a visual when grocery shopping or hanging on your fridge? This anti-inflammatory foods printable allows you to see some of the top anti-inflammatory foods at your fingertips. With this, you'll know what foods to keep available in your fridge at all times. Use it on the go, while shopping, or as a reminder of what foods to incorporate into your daily diet.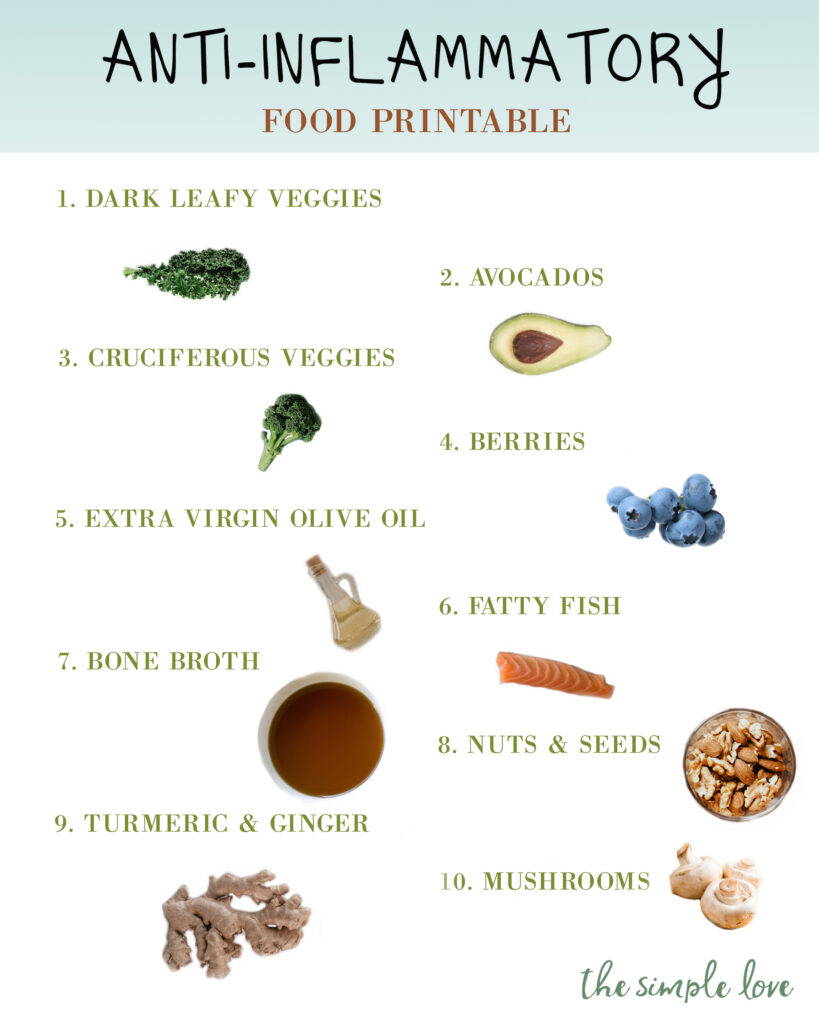 Health Benefits:
Why would you want to focus on including anti-inflammatory foods to your diet?

The root of most diseases is inflammation. This includes cancer, heart diseases, alzheisers, skin issues, arthritis, diabetes and IBS. Aging is accelerated when the body is inflamed and our modern lifestyle, while great in many conveniences often adds to the inflammation in the body with an excess of processed foods, lack of clean air indoors and out, depleted soils, EMF's, chemicals and toxic emotions and thoughts.

However, there are many foods and easy lifestyle hacks that fight these toxic exposures, lower inflammation, heal and bring balance back to the body.
The top 10 anti-inflammatory foods:
Dark leafy vegetables-an array of vitamins and minerals + rich in vitamin k
Avocados, mangos and sweet potatoes-rich in potassium which flushes the body of toxins
Cruciferous veggies-antioxidants + an array of minerals and glucosinolates
Berries-antioxidants, flavonoids + compounds that regulate immune system
Extra virgin olive oil-monounsaturated fats, antioxidants + compound Oleocanthal (similar properties to ibuprofen)
Fatty fish-think salmon-omega 3, DHA/EPA, B12
Bone broth-amino acids + collagen to heal the gut
Nuts & seeds-think walnuts, chia & flaxseeds-omega 3's + phytonutrients + antioxidants. Think brazil nuts & pumpkin seeds-antioxidants + magnesium
Turmeric & ginger-curcumin + benefits lymphatic system
Medicinal mushrooms-minerals, B vitamins + multiple compounds that lower inflammation & strengthen immune system
[ Extra anti-inflammatory boost=grounding outside barefoot + physical fitness. ]
Anti-Inflammatory Recipes
+ Most of the recipes on this site have an anti-inflammatory benefit!