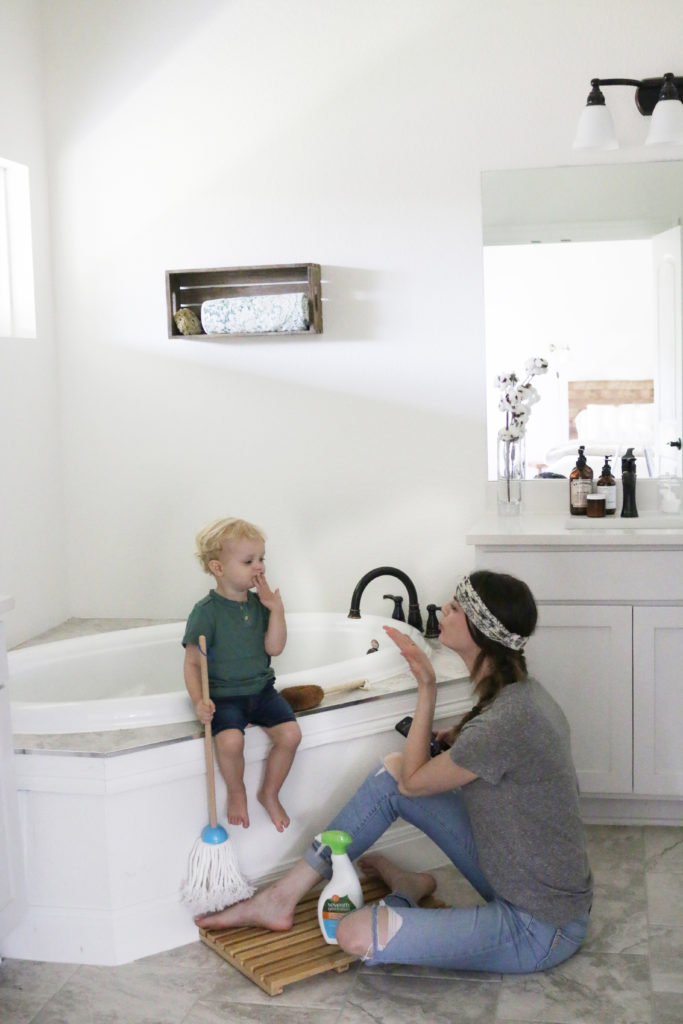 We know that the food we eat affects our health, but the cleaning products we use can also impact the health of our body. The average household contains roughly 62 toxic chemicals in the home, according to Environmental experts. I think that's a bit overwhelming! These chemicals have been linked to asthma, cancer, reproductive and thyroid disorders, and can lead to neurotoxity. Our bodies are strong, and can take a lot, but when we are exposed daily to these chemicals, the burden becomes too much to handle.
Before the 1900's, families used natural solutions for cleaning the home. Such as vinegar, oils, castile soap, lemons, baking soda and plants. Over the years, companies have responded to the demand to make quick cleaning products. The problem with these synthetic mixes is the harmful chemicals they contain. Even air fresheners and many candles can be toxic!
Research from the University of Bergen revealed that people who used commercial cleaning products only once a week showed an accelerated decline in lung function. A few of these ingredients are banned in other countries, such as Japan and Sweden. However they are still prevalently used in the USA.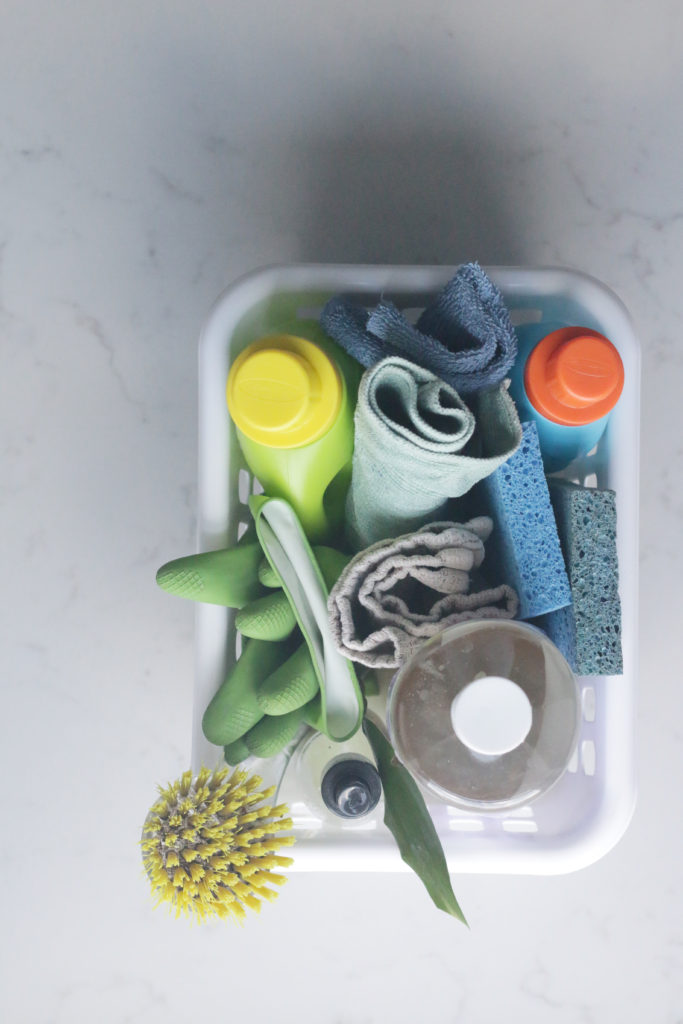 What to avoid: 11 Common Chemicals Found in Household Products
Phthalates
Found in air fresheners, soap, detergents, and toilet paper. Unfortunately, because of proprietary laws, companies don't have to put phthalates on the ingredient label, so it can be hidden under "fragrance." This chemical is a known endocrine disruptor, meaning it alters our hormones. In a 2003 study from Harvard School and the Centers for Disease Control and Prevention, men with higher levels of phthalates in their blood had a reduced sperm count.
Perchloroethylene or "PERC"
Found in dry-cleaning products, spot removers and carpet/upholstery cleaners. The smell you often inhale when you pick up your clothes from the dry-cleaners is often the lingering effect of PERC's. According to the chief scientist of environmental protection NY's Attorney General office, Perc is a neurotoxin and a possible carcinogen.
Triclosan
Found in most dishwashing detergents and soaps, deodorant, shaving cream, toothpaste, trash cans, clothing, cutting boards, credit cards and pesticides. This antibacterial promotes the growth of drug-resistant bacteria. Researched shows that triclosan negatively effects the mitochondria in our cells. Furthermore, this ingredient disrupts our hormones, reproduction system and alters our gut microbiome. In 2016, triclosan was banned from soaps but is still present in other personal products. When it is rinsed down the drain it makes its way into our environment and studies show it is detected in fresh water streams and fish that we eat.
1,4-Dioxane
Dioxane is used in manufacturing, some food pesticide sprays, and household products such as cosmetics, shampoo, bubble bath, dishwashing soap, and baby lotion. This toxin can lead to miscarriage and stillbirths and is transferred to breast milk. Kidney damage and cancer is also a concern with this ingredient.
Nonylphenol Ethoxylate
This is a nonionic surfactant used in industrial applications and consumer products. It disrupts the endocrine system by mimicking the hormone estrogen. It has been reportedly found in breastmilk.
Phosphates
This is a synthetic version of the naturally occurring mineral phosphorus. It is found in cleaning and baking products and also fertilizers. Synthetic phosphates can stimulate lung cancer development and negatively affect renal and cardiovascular function. Reports also show phosphates cause rashes, dizziness and scratchy throats.
Fragrance
Artificial fragrances are found in perfumes and many cleaning agents. Fragrance can be masked as a list of undisclosed chemicals. These synthetic fragrances also disrupt hormone levels, a common struggle today! Most fragrances also contain phthalates, as listed above. Instead of wearing perfume, try essential oils!
Quaternary Ammonium Compounds or QUATS
Found in fabric softeners and cleaners labeled "antibacterial." These antimicrobials help breed antibiotic-resistant bacteria. A 10-year study found Quats to be a leading cause of dermatitis.
Ammonia
Found in polishing agents and glass cleaners. The people most affected are those with asthma or breathing problems because it is a powerful irritant, according to chemical engineer, Donna Kasuska. If mixed with bleach, a poisonous gas is formed and housekeepers may develop chronic bronchitis and asthma from this chemical.
Chlorine Bleach
Found in scouring powders, toilet cleaners, mildew removers, laundry whiteners and household tap water. Chlorine found in water is one of the reasons we decided to purchase a reverse osmosis water system. However, we are not only exposed through our drinking water but also when we take a shower or a bath. Chlorine is a respiratory irritant and can be a serious thyroid disrupter. I personally have struggled with my thyroid over the years and I often wonder if chlorine in our water system contributed. As a nutrition coach, I have also seen many clients who struggle with their thyroid hormones.
2-Butoxyethanol
Found in multipurpose cleaners. This is a powerful solvent that does not need to be labeled as an ingredient on a products label. According to EPA's website, this chemical contributes to narcosis, pulmonary edema and severe liver and kidney damage.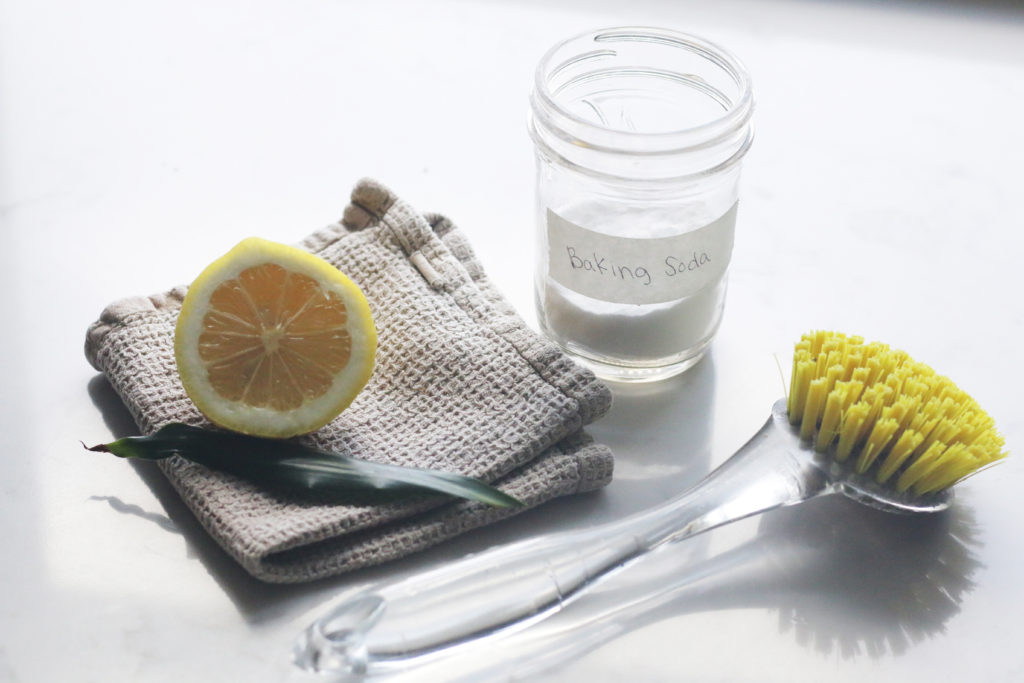 While it is impossible to live a completely toxic free lifestyle, there are many simple solutions to minimize your family's exposure. A few years ago, I decided to start reading ingredient lists of all my cleaning products, lotions, and make up. There are some great natural solutions on the market and simple ways to purify your home! Here are some of my favorite solutions!
5 Ways to Purify Your Home:
Yes! There are natural ways to purify your home! Indoor plants filter the air and eliminate cancer causing volatile organic compounds according to a 1989 NASA experiment. How cool is that?! The larger the plant leaf, the more effective the plant is at purification. Indoor plants are also beautiful and have a calming effect on the mind. I find low maintenance plants and have one in almost every room; they do a great job at uplifting my mood!
Pink Himalayan salt lamps can also detoxify indoor air quality. The salt lamp is hygroscopic, meaning it attracts water molecules that contain toxins, releasing the clean water back into the air. I love the soft pink hue the lamp gives off, making it ideal for bedrooms and nurseries.
Also, when the weather is nice, I love to open the windows in our home! The outside air will not only smell great but also help purify the home by lessening the accumulation of pollutants. According to EWG, our indoor air carries more pollutants than outdoor air.
Instead of using synthetic air fresheners, we love turning on our essential oil diffuser for a fresh smell. It instantly boosts the mood! Clinical studies show that tea tree oil and eucalyptus essential oils kill the airborne flu virus and are effective in killing bacteria in the air.
One of the best ways to eliminate home toxins is to read ingredient labels on the products you purchase. This way, you can see if any harmful ingredients are present and you can make your own decision on what you're willing to bring into your home or not. While we can't hide from every toxin, we can greatly reduce our exposure! I like to research many ingredients here.
Use code HEATHERL for a 15% discount at Organic Chix!