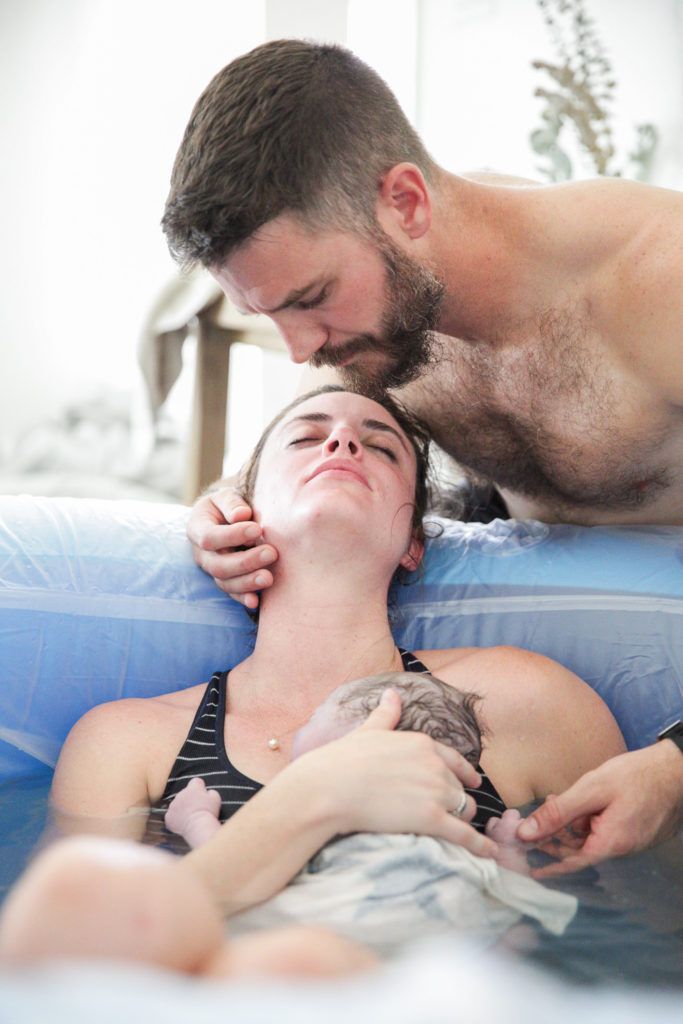 "There is no other organ quite like the uterus. If men had such an organ, they would brag about it. So should we." -Ina May Gaskin
I absolutely love reading other's birth stories and sharing my own. It is such a surreal, magical moment and miracle. Both my boys were born at home and I have loved the experience each time. (You can read Asher's birth story here!)
Judah baby came quickly in the afternoon on September 26. I learned much from my first experience that really helped things go more smoothly this second time around. I wasn't able to use the birthing tub with my first, but am so thankful I could with my second. The warm water made such a difference with each contraction and push!
It was September 25, only a day after due date, and I was READY for baby. Both times I've reached 40 weeks of pregnancy, I am SO OVER IT. Over waddling, indigestion, heavy breathing, frequent bathroom trips in the middle of the night, the aches and the pains, I could go on. I know growing this baby in my belly is a miraculous gift, so I try to focus on the positives verses the negatives. I usually fail. Women who make it to 42 weeks pregnant, I AM SO IMPRESSED WITH YOU.
That evening, Jordan and I were watching Survivor; he's always loved the show and somehow got me sucked into being a superfan as well. They were just getting to my favorite part, when they vote someone off at tribal council. Suddenly, out of nowhere, I had a strong contraction. Was it my anticipation of tribal council or was this the real thing? A few minutes later I felt another one. This was definitely not a Braxton Hick; I instantly recalled the feeling with my first. They caught me so off guard I anxiously went to take a shower, missing who got voted off of Survivor!
After my shower, the random contractions did not come back. I was discouraged and on the verge of tears. While the guessing game of baby's birthday is exciting, I also find the anticipation irritating. I decided to go to bed.
At 1am I was re-awakened with another contraction. The best way to describe the feeling was like a bad period pain that wrapped around my back and belly with a tight squeeze. I went to the restroom and noticed I had a few drops of light blood. I was very hopeful this meant something was happening soon!
I could not fall back asleep at this point, my contractions kept getting slowly stronger and I continued to spot blood. I lay in bed until around 4am to wake Jordan. By this time, I was wide-awake and excited. As Jordan rubbed his eyes and started making coffee, I made waffles and talked his ear off like he had been awake for hours as well.
Jordan and I chatted in those early morning hours, both growing in excitement that we may be meeting our baby boy today. Since my contractions were mild, I didn't inform my midwife until around 8am. I also called my friend, Lyndsay, who planned to take photos of the day. Everyone was on call, but as the sun came up, my contractions seemed to get a little irregular. Some came every 10 minutes while some came every 20-30 minutes. I was really starting to get confused and discouraged. Was this whole thing a false alarm?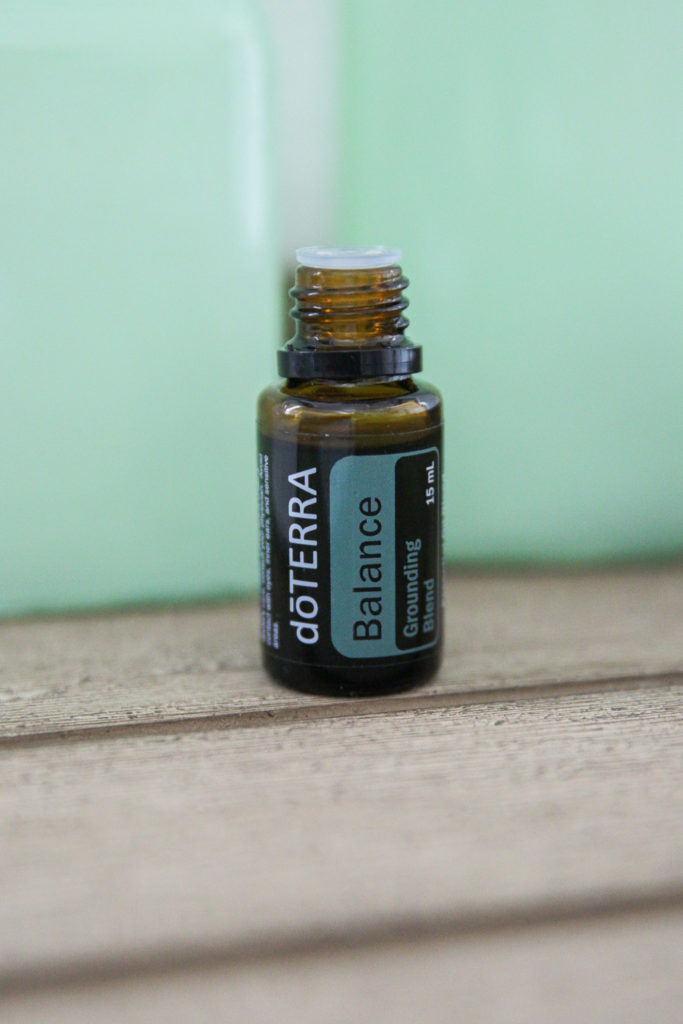 After a couple hours passed my contractions came back at regular intervals of 10 minutes, I was SO thankful! I didn't really know what to expect, how long could this labor last? With Asher, my water broke the night before my contractions began. Once they came, they were immediately strong and fast. Everything was straight forward, but this time, it felt totally different. Like I was climbing up a tall mountain very slowly.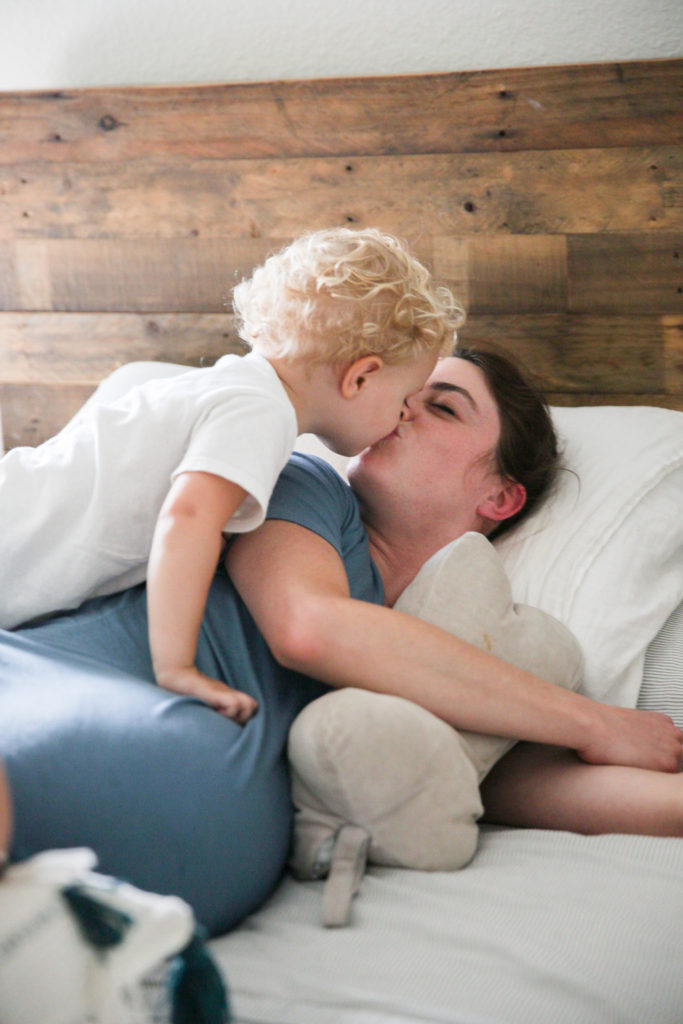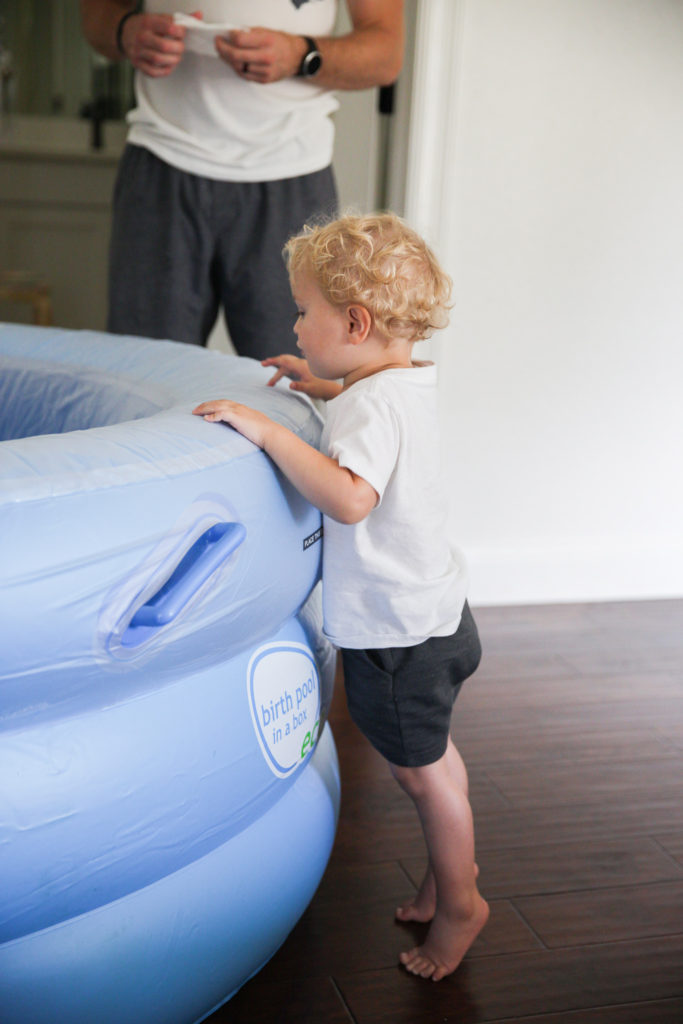 Around noon my mom arrived to pick up Asher. While I love the idea of my children watching a birthing process, I don't think the age of 2 is the best time, haha, at least not with my child's personality. Lyndsay also arrived at this time. I was excited to have her experience her first live birth! You can read her sweet blog post here and her perspective of the day! Lyndsay was more than just an amazing photographer that day; she ended up being another anchor for me as I rode the waves of contractions. She did such an amazing job encouraging me and helping both Jordan and I with any needs that came up, I was impressed with her doula skills!

I lay in bed as my contractions were coming at 8-minute intervals. I was surprised that I was able to talk between each one. With my first, this was not the case! My midwife, Jennifer, left her office and was on standby 15 minutes away. I told her to pick up lunch before coming since I felt fine at this point.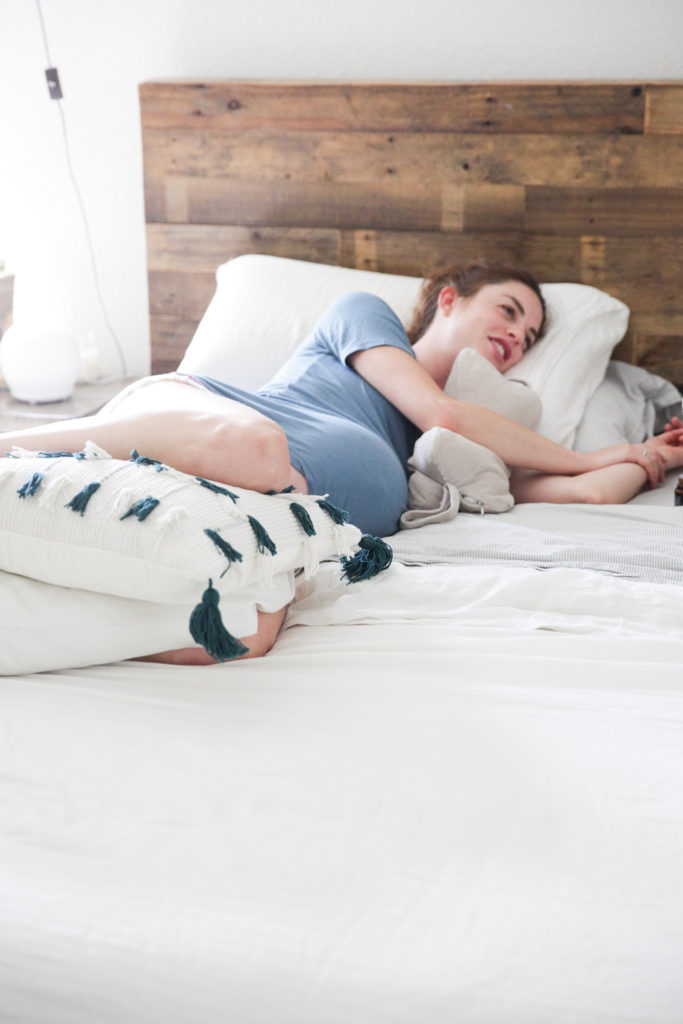 Suddenly, a strong contraction came, I held onto my pillow waiting for it to hurry and be over, but as I reached the strongest point I felt my baby kick…and then I heard a pop. Suddenly, a liquid began gushing out of me. "Was it blood or water?" I wondered a bit nervous. "I'm leaking, I'm leaking!" I moaned at Jordan. "What do you mean, leaking?" He asked while checking where I was pointing. "Oh yeah, you are, her water broke, her water broke!" Jordan informed Lyndsay. They both rushed to get towels.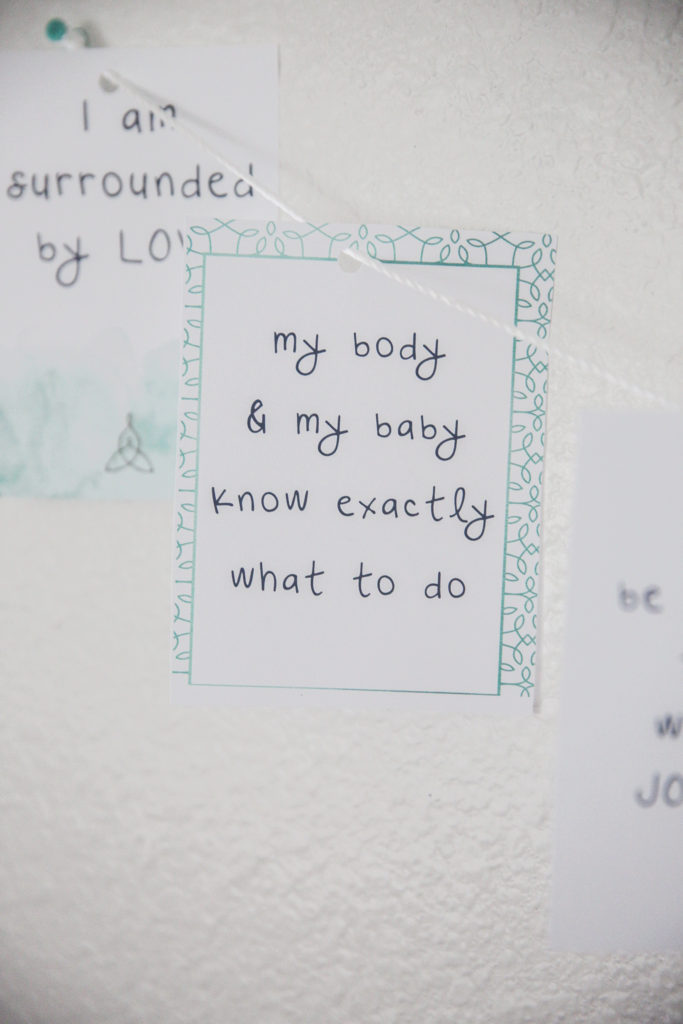 In one sense, I was thankful. I knew this meant contractions would speed up and I wouldn't have to labor ALL DAY LONG. I also knew this definitely meant "go time." The contractions suddenly became MUCH STRONGER and quickly took a turn to every 2-3 minutes apart. Jordan phoned Jennifer and she quickly arrived. I could no longer talk between contractions. I gripped the pillows with my eyes squeezed shut as I tried to breathe and focus. This is when reality becomes a blur.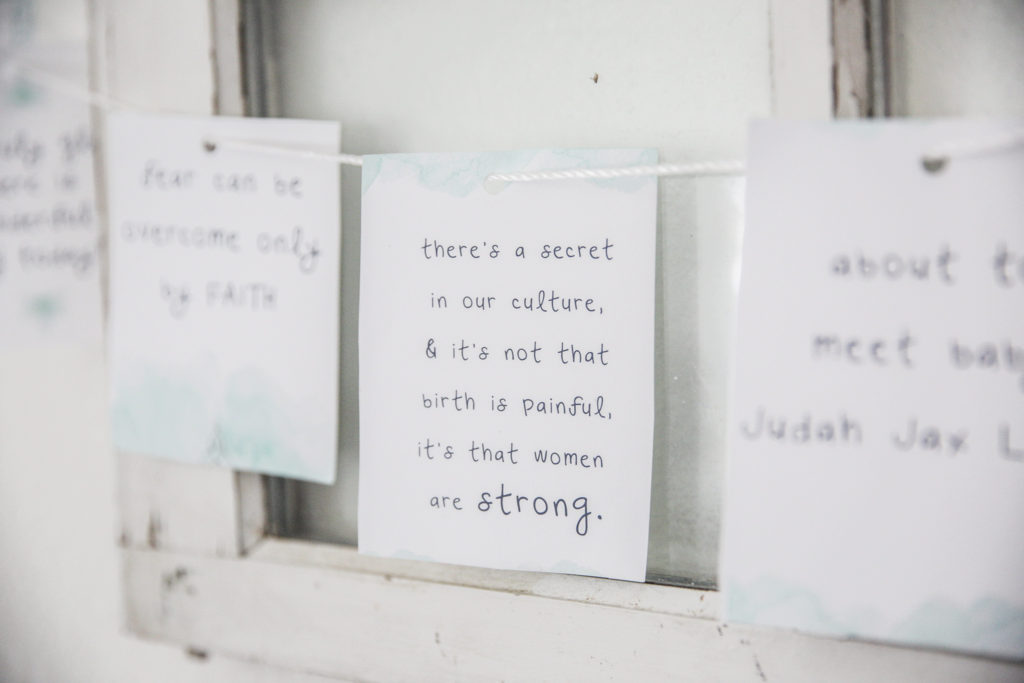 I remember describing to my friends after my first baby that labor felt like an "out of body experience," or like I had "entered another dimension." It sounds weird. I felt awkward trying to describe the sensation to friends who had yet to experience what I was talking about. This time, I grasped the feeling a little better. I think I was referring to transition. Defined as the transition from the first to the second stage of labor. This is often known as the most intense part. I think that's the reality blur I was referring to…I typically squeeze my eyes tight and remember to breathe slowly. Squeezing someone's hand is everything and the encouragement I distantly hear from my team in this moment is what gets me through.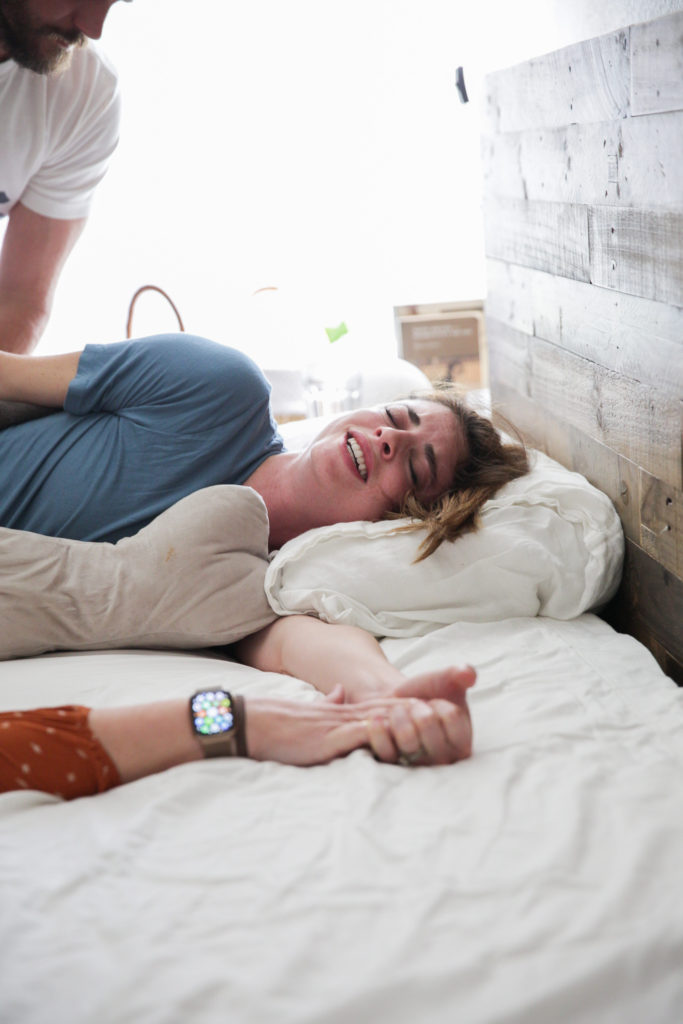 My midwife helped me to the tub and I was so relieved I made it in that warm water, it completely took the edge off! It felt so good to lay over the edge with the warm water comforting my big belly.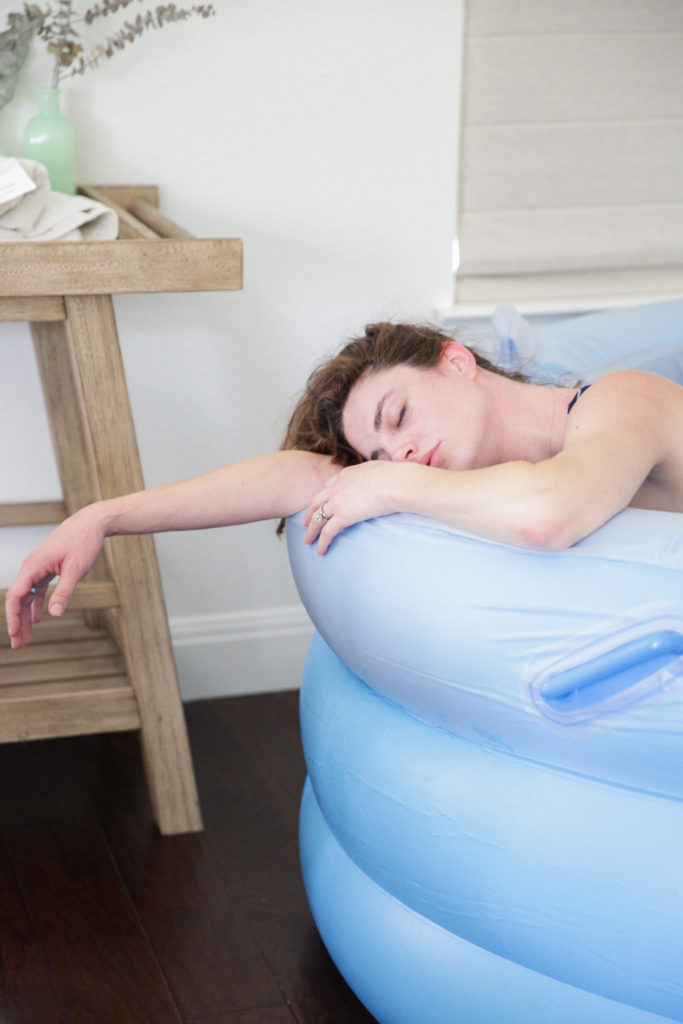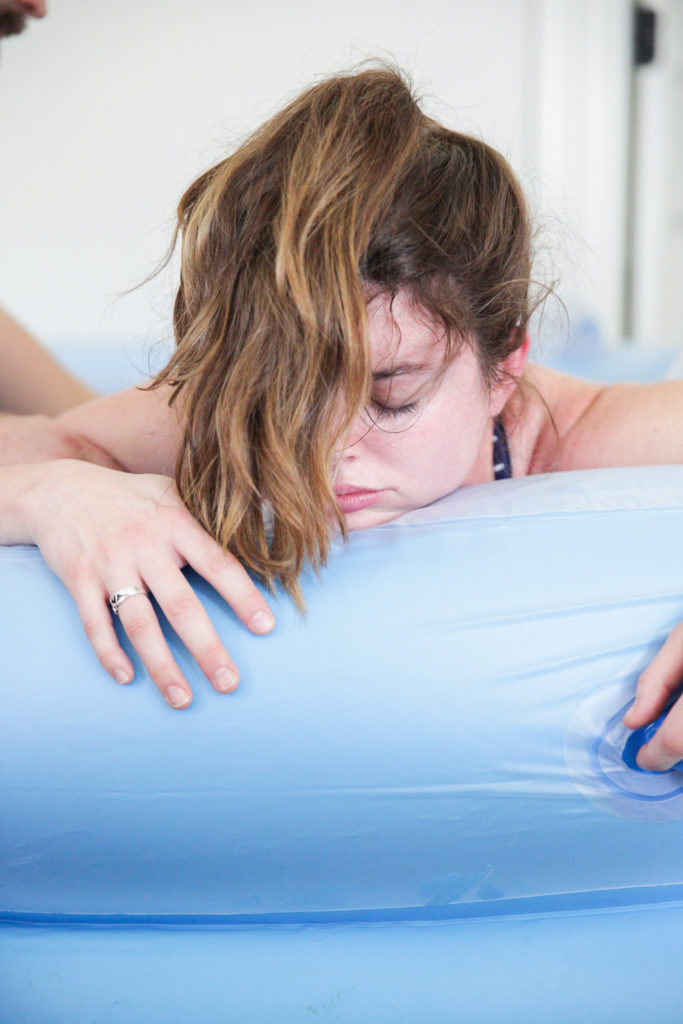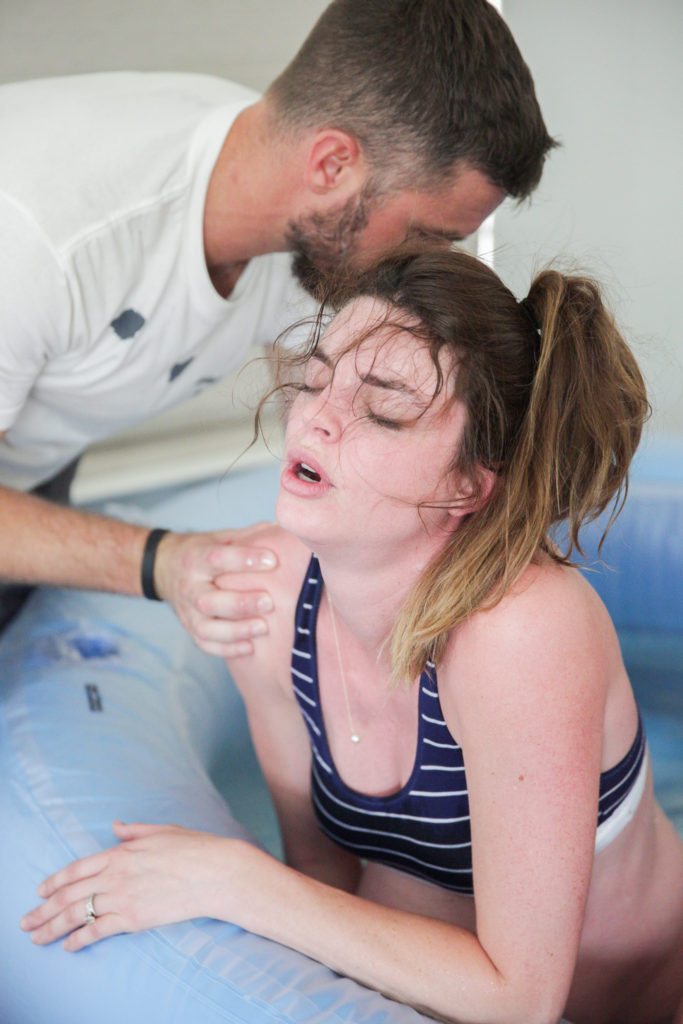 After only 20 minutes of pushing we met our baby! What a relief! With Asher, it took me 2.5 hours during this stage. However, second time around, I knew what I was doing! Cord was wrapped a few times around his neck and his torso, yet Jennifer gently unwrapped it off his body.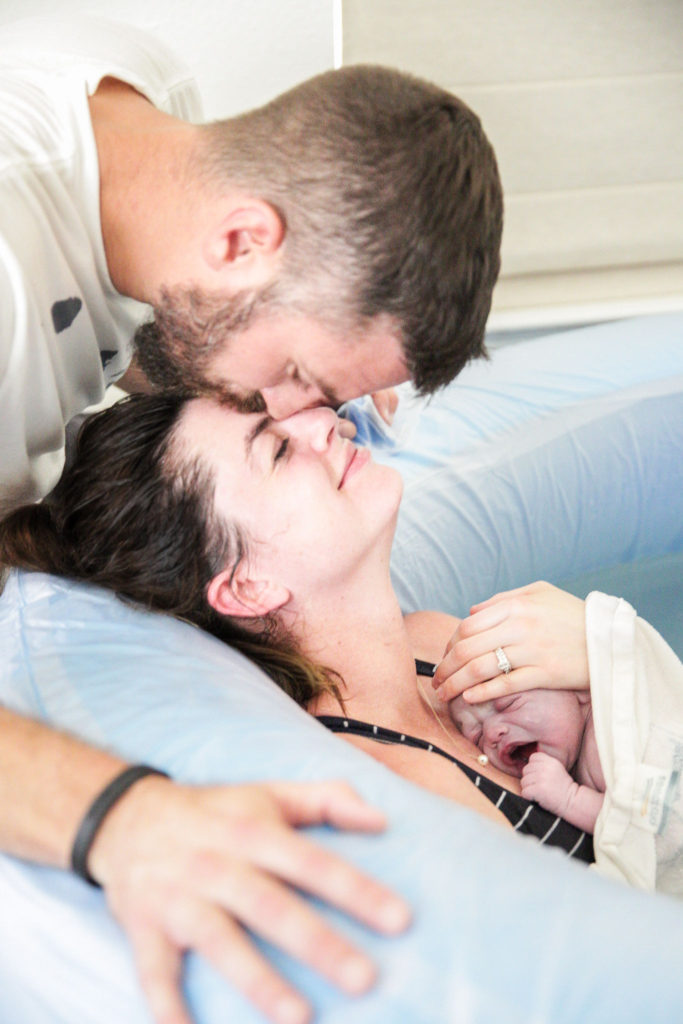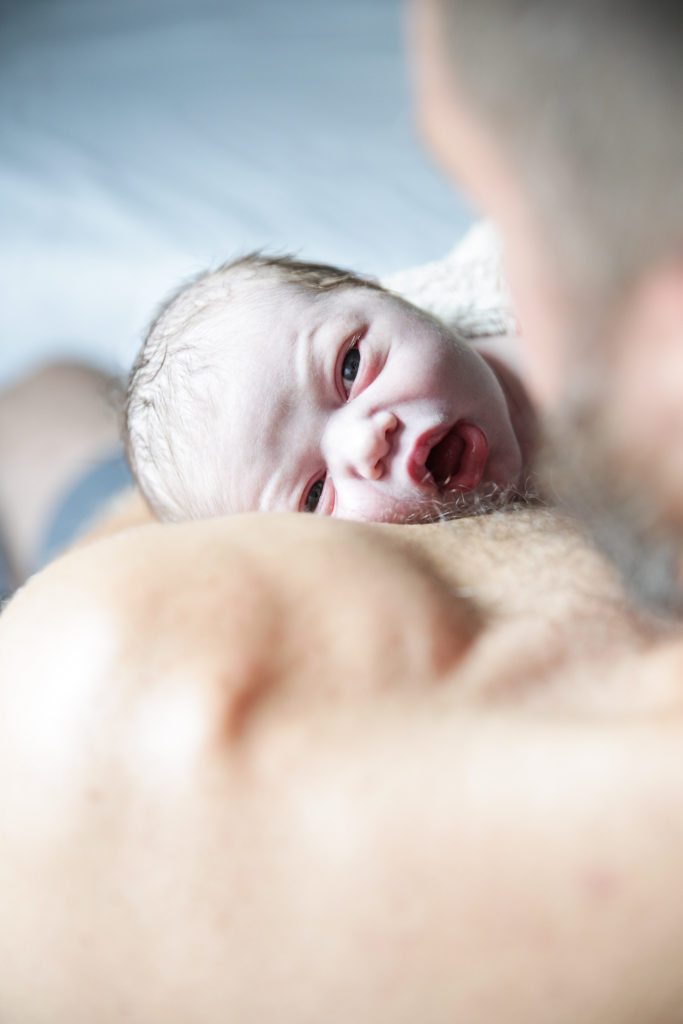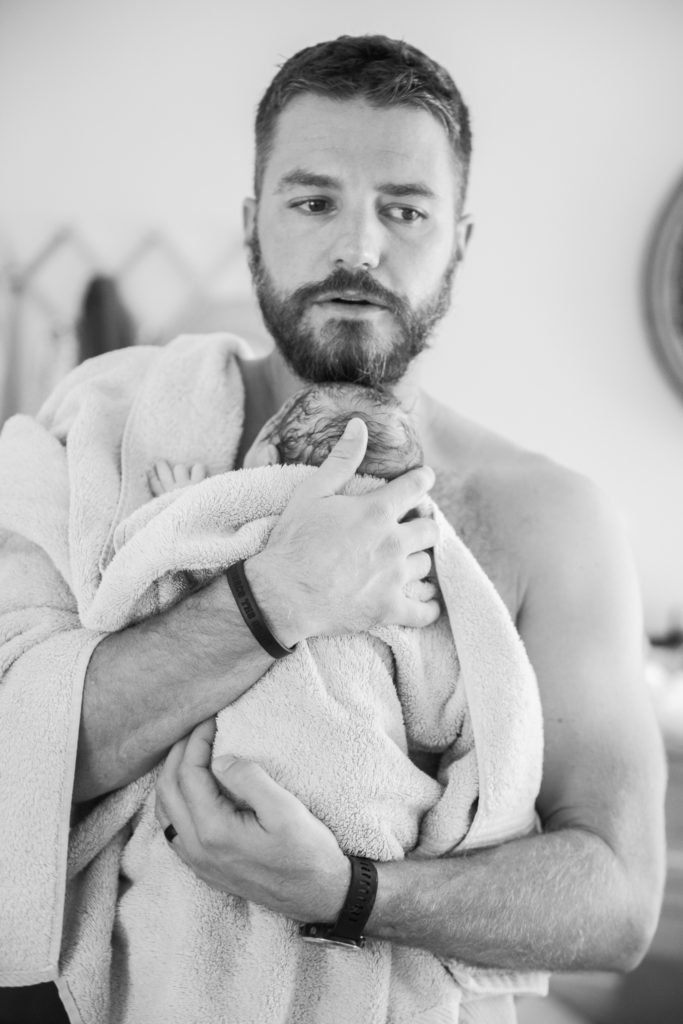 Judah Jax Love. 8.11 lbs, born at 2:41pm
I love that surreal moment right after baby is born! I've never run a marathon before but I imagine the runners feel a similar elated feeling. All the hard work is over and my reward is here! Both times in the middle of labor I have told myself I'm never having another baby and both times after they are born I convince myself, "Eh, it wasn't that bad." The reward is far greater!
One of my favorite Bible verses I often think of when I feel like I can't go on anymore is Philippians 4:13, "I can do all things through Christ who strengthens me." And just after baby Judah was born, I thought, "It's done! All that hard work is over!" Then I thought of Jesus' last words on the cross, "It is finished." If he can go through that unimaginable pain for me, then I can get through anything. I find that so encouraging!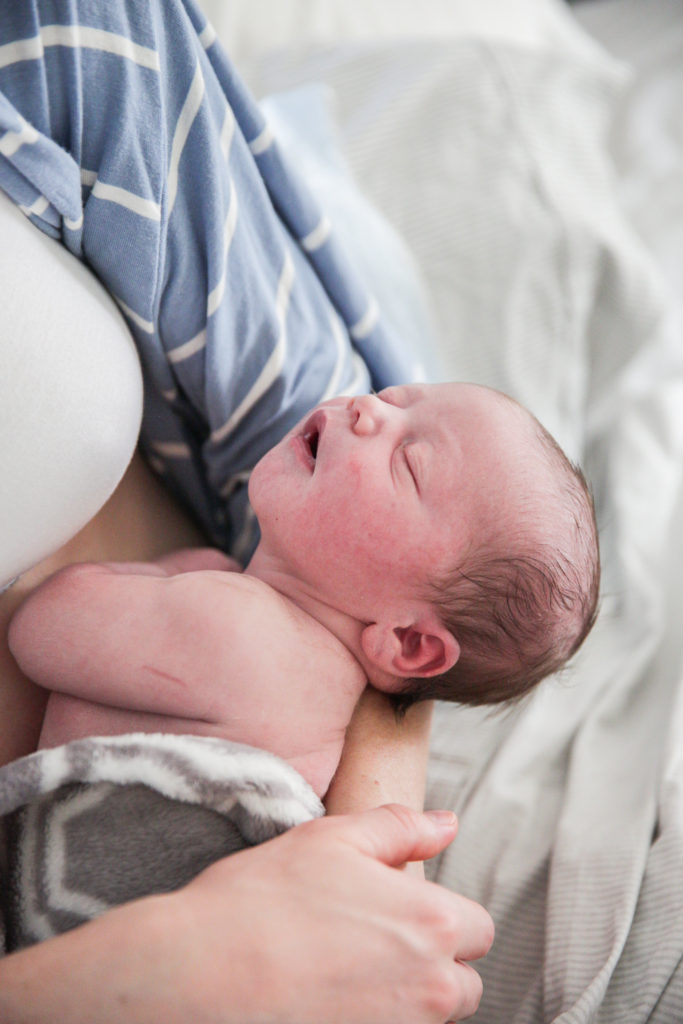 It felt so good to walk into my shower and have the warm water wash over me. We all sat in bed as my mom brought our toddler, Asher, home. This was a fun moment as the boys met each other for the first time! Asher was no longer the baby of the family…he's still not sure how he feels about that.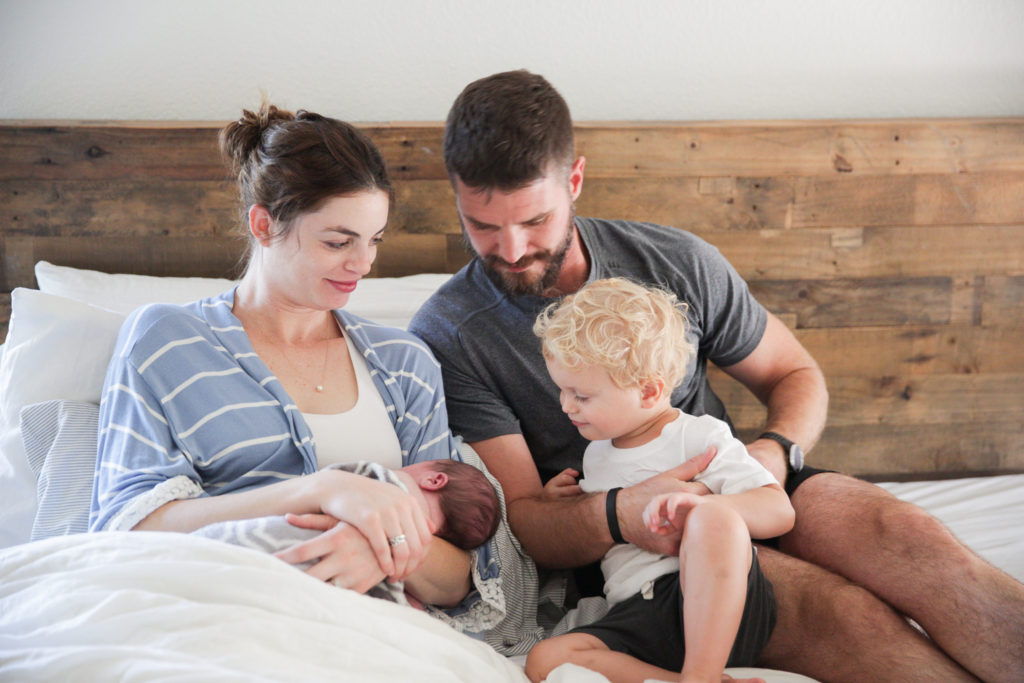 I'm so thankful for this experience and love encouraging other mama's who are considering having a home or water birth. I am not a high-tolerance to pain person. In fact, growing up, my mom often said, "You have such a low tolerance to pain, Heather!" I laugh because I know if I can do it, ANYONE can.
"There's a secret in our culture, and it's not that birth is painful, it's that women are STRONG." –Laura Stavoe
Credits:
Favorite Labor & Postnatal Products: