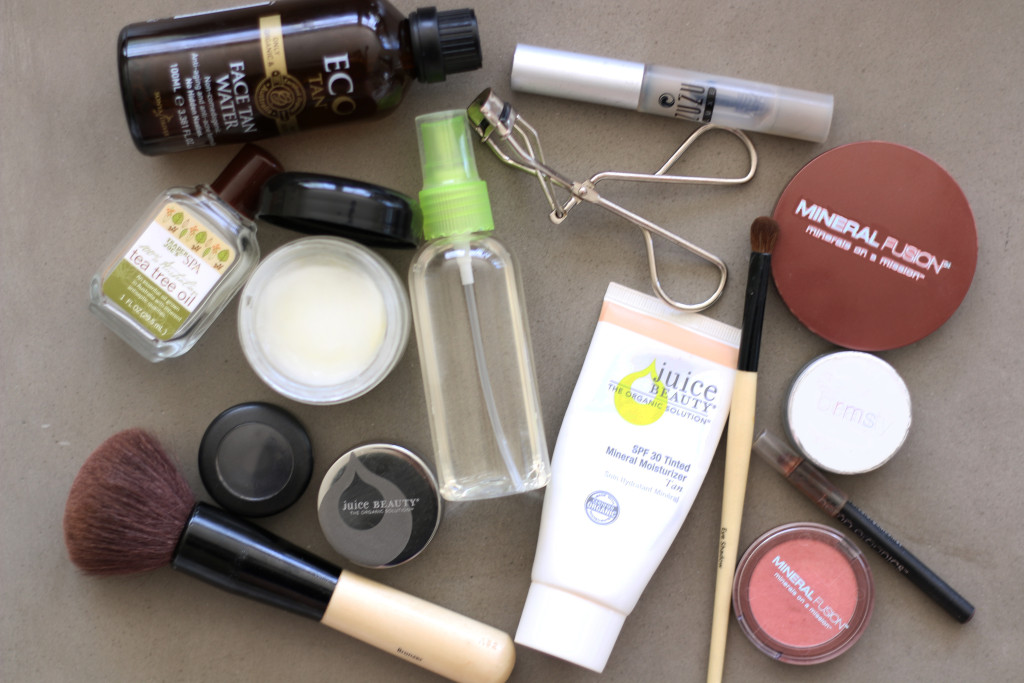 Do you check the ingredients in your makeup and skin care?
I never did.
I knew to check my packaged food labels, but never thought to check the ingredients on my skin care and makeup. When I learned that what you put on your skin soaks in and goes directly into your bloodstream..I suddenly became concerned.
The food we eat is processed by the liver, which is able to remove toxins. However, skin products soak directly into the blood stream and are not filtered through the liver. That is why it is so important to be cautious of ingredients in makeup, deodorant, lotions and perfumes. Research shows that many of these chemicals present are known to disrupt our endocrine system. This means, imbalanced hormones. Exposure to these chemicals can bring on a host of problems such as weight management problems, hypothyroid, adrenal imbalances, excess estrogen, low sperm count in men, infertility and certain cancers.
What are these ingredients I'm talking about? The Environmental Working Group found that people are exposed to an average of 126 chemicals daily solely from skin care products like shampoos, lotions, lipsticks and perfume. Heavy metals were found to be heavily prevalent as well. Here's some of what was found in these common every day makeups…
96% contained lead
90% contained beryllium
61% contained thallium
51% contained cadmium
20% contained arsenic
These heavy metals are showing up in blood test work, tumors, urine and breast milk. As a nursing mom, I am especially concerned about what's ending up in my milk!
This might sound scary, but there are simple steps that can greatly minimize our exposure. One of the first steps is to check the ingredient list in your makeup bag and bathroom cabinets. Feeling overwhelmed by so many ingredients that you cannot even understand? Here's a great site to check the toxic level of your skin care. http://www.ewg.org/skindeep/
A great list of ingredients to avoid by Cammi Balleck, CTN
Formaldehyde: A known carcinogen and irritant found in nail products, hair dye, fake-eyelash adhesives and some shampoos. It has been banned in other countries.
Fragrance: Has hormone-disrupting effects. Fragrance is also connected to headaches, dizziness, asthma and allergies. Instead, use products with natural fragrances only.
Lead: A known carcinogen and hormone disruptor found in certain eyeliners, hair dye and lipsticks.
Mercury: A known irritant and allergen that, with body accumulation over time, can impair the brain and nervous system.
Parabens (Propyl-, Isopropyl-, Butyl- and Isobutyl-): Used as preservatives in many products. A study published in the Journal of Applied Toxicology in 2004 detected parabens in breast tumors and discussed their estrogen-like properties. While this doesn't create a direct connection with cancer, I recommend avoiding these ingredients.
Oxybenzone: An active ingredient in chemical sunscreens that accumulates in fatty tissues and is linked to allergies, hormone disruption and cellular damage. I recommend wearing skin-protective clothing and using natural minerals or zinc products.
DEA/TEA/MEA (Ethanolamines): Used as emulsifiers and foaming agents for shampoos, body washes, soaps and topical application. It's been associated with cancer in animal studies.
Sodium lauryl (ether) sulfate (SLS, SLES): A former industrial degreaser now used to make soap foamy, it's absorbed into the body.
Diethylene glycol (or DEG): A central nervous system depressant and potent kidney and liver toxin. Sometimes found in fragrances. Glycerin and propylene glycol are sometimes contaminated with DEG, which are common ingredients in personal care products.
It can be overwhelming and intimidating to switch to a more natural approach. The marketing of these skin care lines have a strong hold on us women who want to look beautiful, vibrant, and youthful. They have such a strong hold on us that globally they make up a $250 billion industry. The good news is, many of these natural and homemade skin care options can be less expensive and more effective! In fact, one of my favorite health bloggers, Wellness Mama makes most of her own natural skin care and makeup. You can try one of these at home or search for all-natural and organic next time you shop.
Here is a list of some of my favorites brands and a look inside my makeup bag.
Let me know your thoughts and comments, and some of your favorite clean brands!

night cream-coconut oil
or coconut oil
pimples-Melaleuca (Tea Tree) Essential Oil
or doTERRA Oregano Essential Oil
toner-Thayers Alcohol-free Rose Petal Witch Hazel
day moisturizer/foundation-Juice Beauty Tinted Mineral Moisturizer
concealer-Juice Beauty Correcting Concealer
or RMS Beauty – "Un" Cover-up
highlighter-RMS Beauty Living Luminizer
bronzer and blush-Mineral Fusion
tanning lotions & creams-Organic Face Tan Water
; Eco Tan Invisible Tan Cream- Australia Certified Organic
An interview with health advocate and diy natural skin care maker, Mariah Wilcox
Other clean brands to check out:
http://www.annmariegianni.com/
http://www.koraorganics.com/us/
http://www.hanaorganicskincare.com/
http://www.100percentpure.com/
https://www.tataharperskincare.com/
Sources:
"10 Toxic Ingredients That Might Be in Your Makeup." Food Matters. N.p., n.d. Web. 23 Mar. 2016.
"12 Dirty Chemicals in Your Personal Care Products • Joyous Health." Joyous Health. N.p., 23 Apr. 2011. Web. 23 Mar. 2016.
"2016 Food Matters Skin Care Buying Guide." Food Matters. N.p., n.d. Web. 23 Mar. 2016.
"EWG." EWG. N.p., n.d. Web. 23 Mar. 2016.
 "Natural Skin Care Recipes | Wellness Mama." Wellness Mama. N.p., n.d. Web. 23 Mar. 2016.
"New Study Finds Major Toxins in Many Cosmetics." Mercola.com. N.p., n.d. Web. 23 Mar. 2016.
 "Side Effects of Petrolatum." LIVESTRONG.COM. LIVESTRONG.COM, 11 Mar. 2011. Web. 23 Mar. 2016.
"Siloxanes." David Suzuki Foundation. N.p., n.d. Web. 23 Mar. 2016.
"Why Ditching Antibacterial Soap with Triclosan Is a Good Idea." Mercola.com. N.p., n.d. Web. 23 Mar. 2016.
"9 Commonly Used Beauty Ingredients That Could Be Disrupting Your Hormones." Dermstore Blog, 22 June 2016.
Save