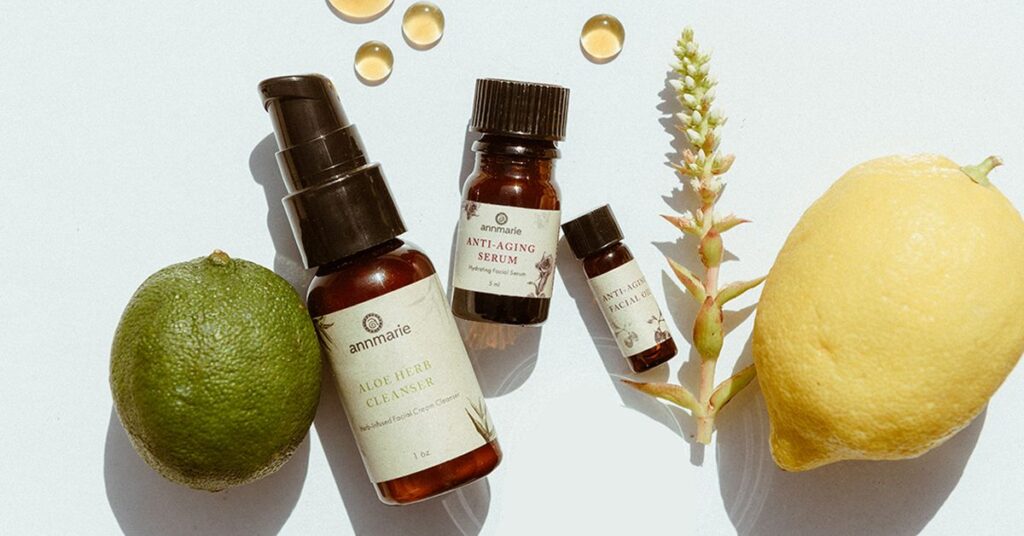 I recently began using Annmarie skincare products and WOW, they are truly amazing. Not only do they use certified organic ingredients but also wildcrafted herbs meant to nourish your skin and give you that healthy glow. These products are effective, smell AMAZING, and are non-toxic. I adore what they have to offer and I know you will too!
AND GUESS WHAT? I HAVE A SPECIAL DISCOUNT FOR YOU.
Scroll down or continue reading for the link with my discount.
Personally, I have very sensitive, dry skin. The wind, environment, products and foods I eat show up on my skin, immediately. Flaky, red blotches, and uneven tone are a few of the issues I see arise. Many skin products leave my skin wanting more… However, when I use Annmarie's products, my skin soaks everything up and looks and feels nourished. Not only does my skin look supple, these products smell like fresh wildflowers and herbs which I absolutely love.
Truly clean, chemical-free beauty is essential because the ingredients you put on your body WILL make it into your bloodstream. (Read more about that here). Annmarie Skin Care began 11 years ago after discovering the beauty industry lacked regulation and legislation. Sadly, we still face many of the same issues from over a decade ago.
I love that Annmarie uses the best organic and wildcrafted ingredients mother nature can provide, giving a pure experience—free of synthetic chemicals, colors and synthetic fragrances.
→ Here is where you can learn more about Annmarie Skin Care products. CLICK HERE FOR MY DISCOUNT!
Your search for pure, all-natural skin care ends here—especially if you've been looking for chemical-free solutions that work.

My friends at Annmarie Skin Care have created a trial set for you to experience the most popular products. This set includes a full routine of clean and complex elixirs (including two free formulas!), all but guaranteed to hydrate, soothe, and rejuvenate your skin and lift your spirit.
For $19.99, you can nourish your skin naturally with FIVE total products to try:
The pH-balanced Aloe Herb Cleanser (1oz) and ultra-hydrating Anti-Aging Serum (5ml), two core essentials that leave skin supple, nourished, and flawless with purely natural ingredients.
One FREE sample, made with organic ingredients: the Anti-Aging Facial Oil, a luxuriously herb-infused elixir that delivers dewy, glowing skin.
FREE shipping (for US and Canadian residents only).
A 100% money-back promise if you are not satisfied with your order.
HERE'S YOUR ORGANIC SKINCARE AND MY DISCOUNT.