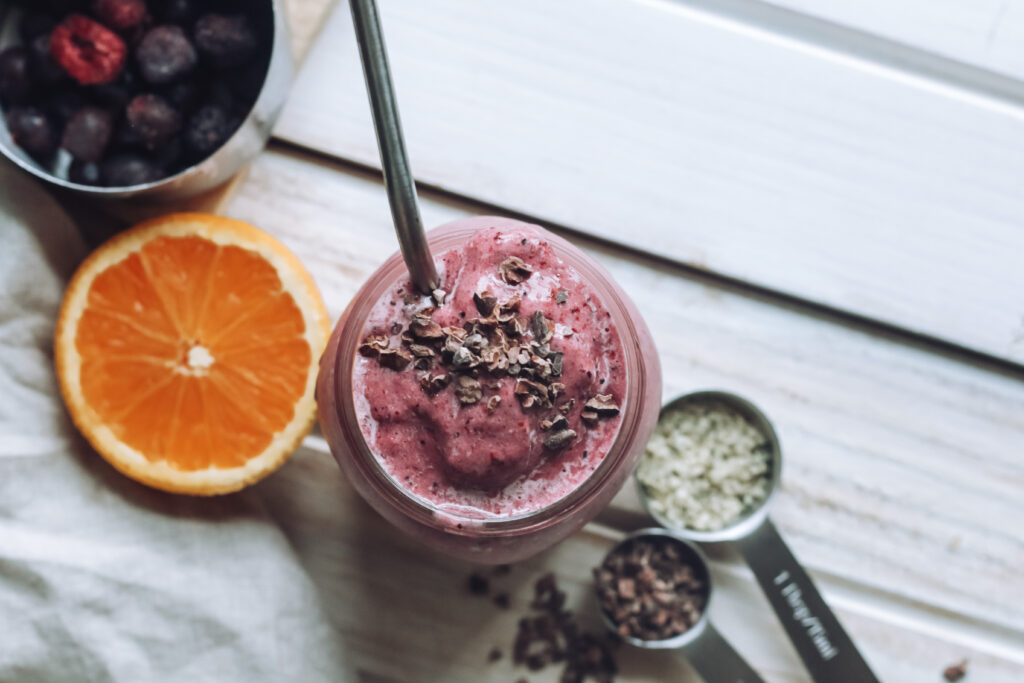 Is your mouth watering from this photo?
Mine is.
Perhaps it's because I just finished drinking this and I know how delicious this superbrain berry tart smoothie is, or should I say Jordan's smoothie? My husband makes the BEST smoothies. I can't compete. He worked at Jamba Juice back in the day and I'm assuming that's where he gained his mad smoothie making skills. Often, late at night, when we are watching a movie together, I'll bat my lashes and ask him to make me this smoothie. I am convinced the eye lash batting does the trick because he usually does, and his smoothie is like a dessert, the perfect, nourishing treat at the end of the night! This smoothie is not only a delicious dessert, it is loaded with health benefits, from fighting cancer to strengthening your brain. Keep on reading!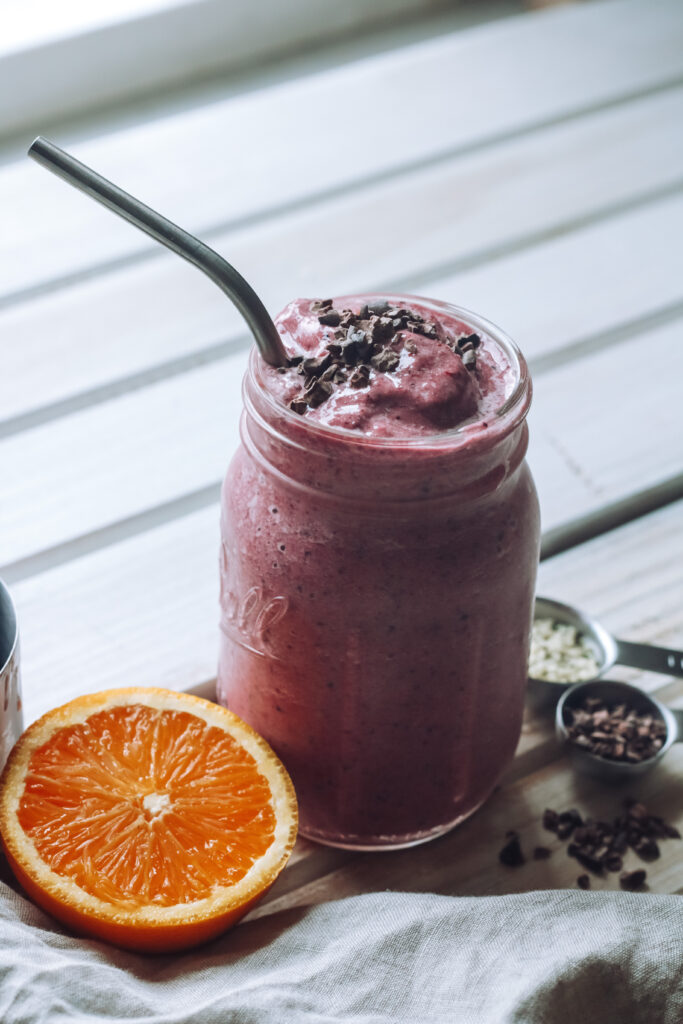 Health Benefits:
Hemp seeds-a COMPLETE protein containing all 9 essential amino acids! That's pretty amazing, coming from a seed and plant source. They are also a great source of ALA omega 3 fatty acids which are necessary in fighting inflammation and improving heart health. The seeds also contain CBD, which help fight neurological conditions such as alzheimers disease.
Berries-Berries are a powerful punch of antioxidants which fight free radicals, including polyphenols which are known to fight cancer. A study from UCLA in 2006 revealed that many types of berries prohibited cancer growth. Berries are also a top brain food! An animal study showed that they help prevent memory loss and improve signaling pathways in the brain which, like hemp seeds, also fights neurological conditions.
Note-if possible, search for wild, organic berries. Studies show that wild varieties showed much better protective ability compared to commercially grown varieties. This may be because commercially grown crops are grown in depleted soils, picked too early and sprayed with pesticides which stunts much of the plants nutrients.
Probiotic Yogurt-when choosing yogurt, look for ones that have no added sugars to the ingredient list. The best quality ones usually have milk, live cultures, and nothing else. These type of yogurts are rich in probiotics, which nourish and heal the gut. This fermented food is also high in K2, known for its cardiovascular benefit. In a large study by the International Journal of Cancer, yogurt was linked to a lower risk of colon cancer.
To Make:
Simply add ingredients to a high powered blender, and enjoy! Seriously, this smoothie tastes great for breakfast, a snack, or a dessert. 🙂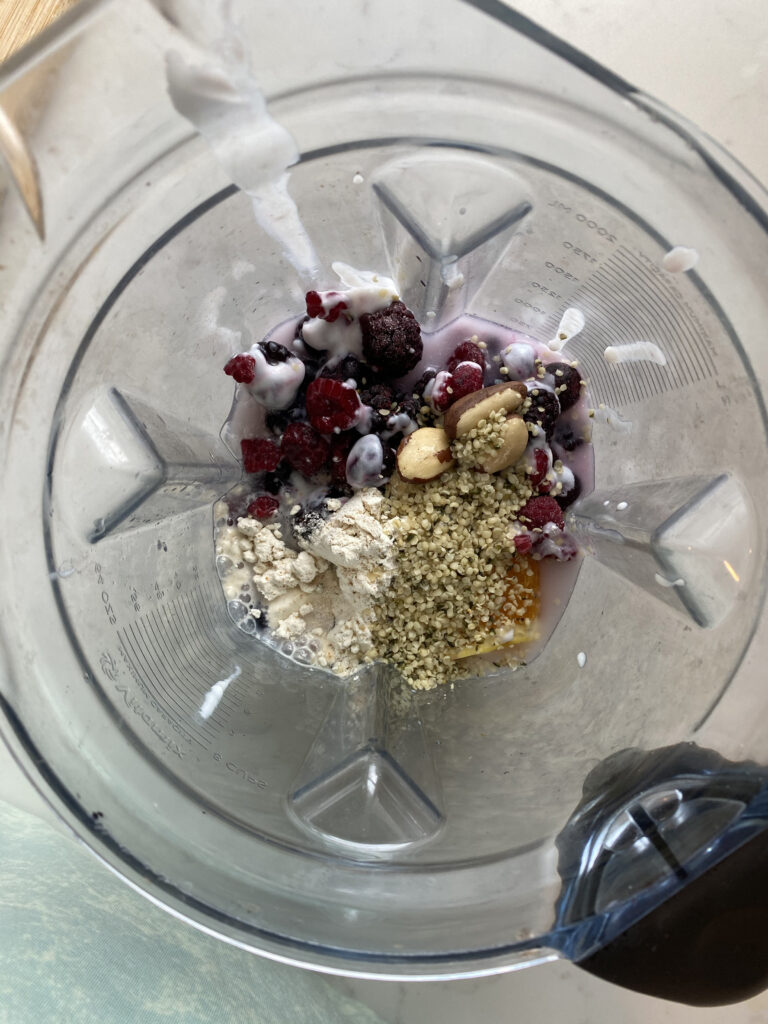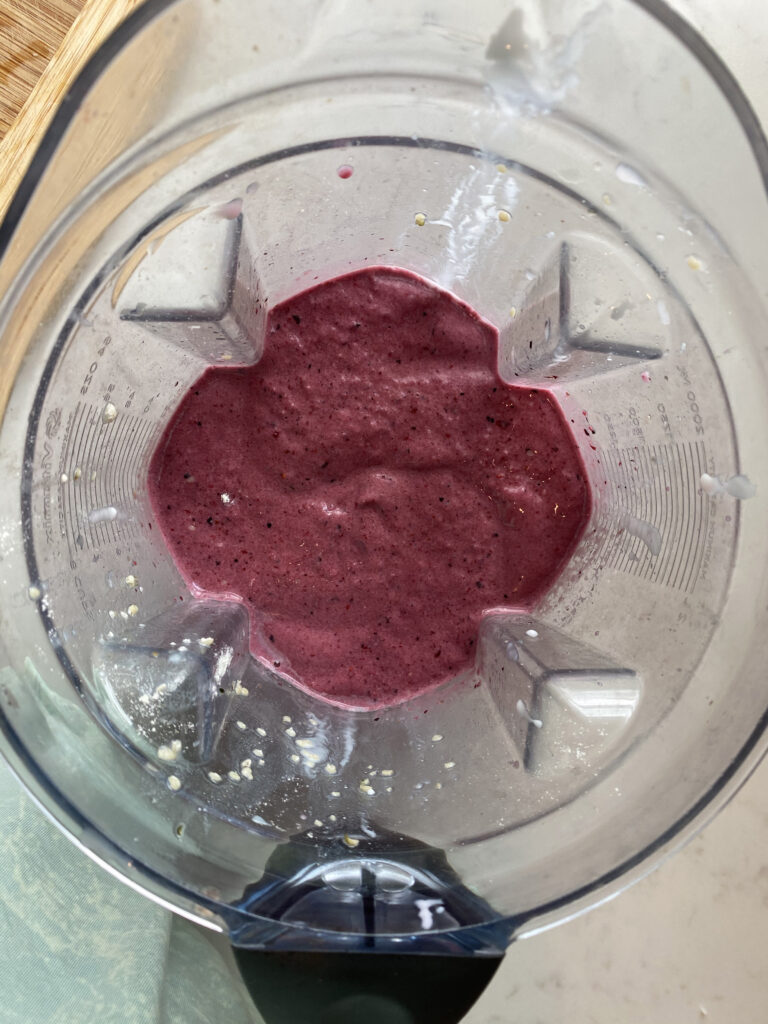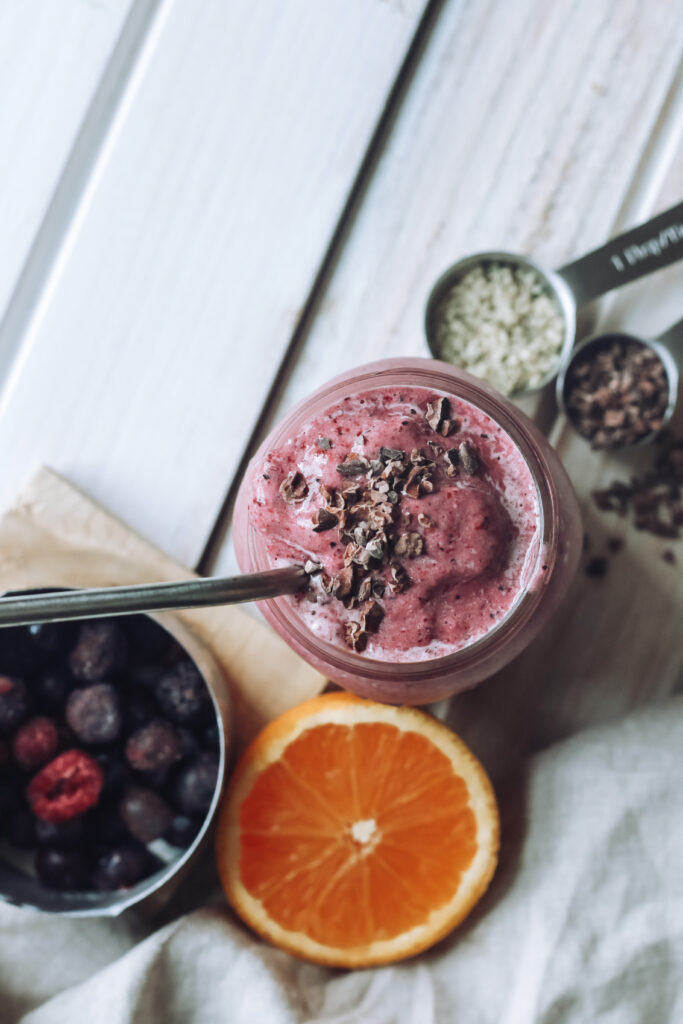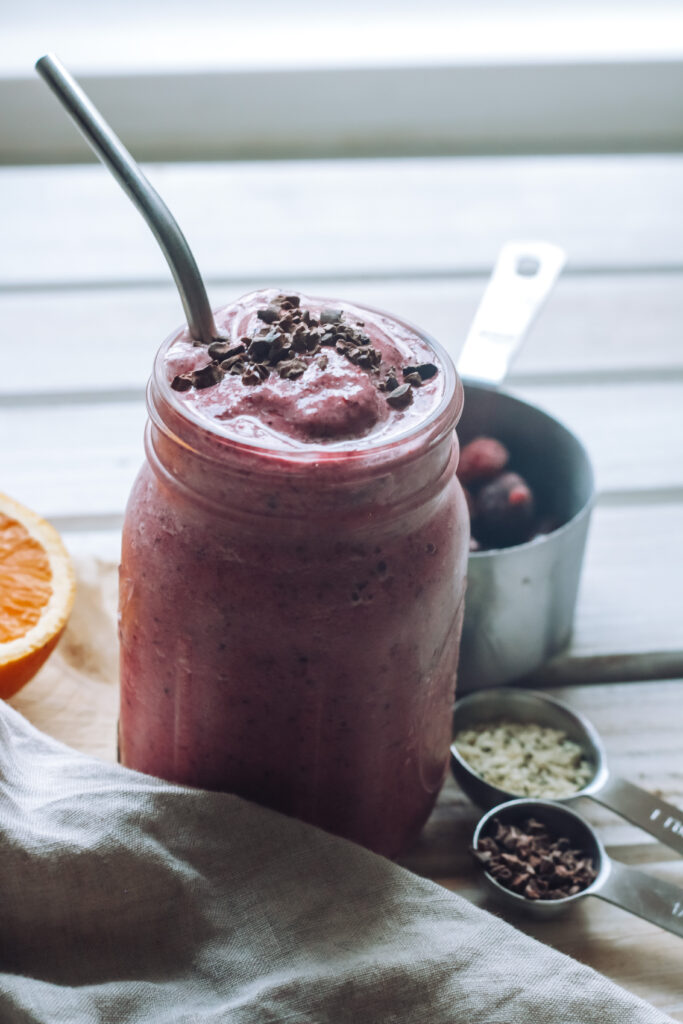 Print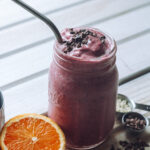 Jordan's SuperBrain Berry Tart Smoothie
---
Author:

Total Time:

5 minutes

Yield:

1

large cup

1

x
1 frozen banana
1/2 orange (skin cut off)
1 cup filtered water
3/4 cup probiotic rich plain yogurt
1.5 cup frozen fruit (we love mixed berries)
1 scoop protein powder (we use vanilla, less naked whey)
1 tbsp hemp seeds
topping
raw cacao-for that magnesium boost
---
Instructions
Add all ingredients to a high powered blender, mix and enjoy! Add raw cacao or your favorite toppings.
Keywords: smoothie, superfood, brain food, berries
Sources:
https://www.medicalnewstoday.com/articles/323037#health-benefits
https://draxe.com/nutrition/health-benefits-blueberries/
https://pubmed.ncbi.nlm.nih.gov/17147415/
https://pubmed.ncbi.nlm.nih.gov/22314351/
https://pubmed.ncbi.nlm.nih.gov/21607947/
https://www.webmd.com/healthy-aging/news/20120309/berries-boost-brain-function